The second Caribbean Small Island Developing States (SIDS) High-Level Dialogue on Climate Change was held in Grenada at the end of September 2023, with leaders from the region coming together to chart a way forward on multiple climate challenges.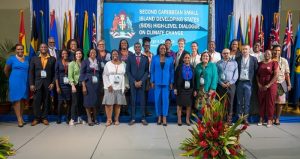 The meeting, which took place with the support of UN Climate Change, witnessed substantive discussions on topics identified by Caribbean leaders as regional priorities and resulted in a comprehensive Outcome Document outlining key actions for the future.
Leaders from Caribbean nations, including Prime Ministers from Bahamas, Barbados, Grenada, St. Kitts and Nevis, St. Lucia, and St. Vincent and the Grenadines, along with ministers from the British Virgin Islands and Anguilla emphasised their shared status as "big ocean states", in contrast to their traditional designation as "small island states". This unity aims to amplify their voices on the global stage and emphasise their shared priorities.
In his remarks, Prime Minister Dickon Mitchell of Grenada highlighted the importance of a united front, stating: "To be heard in the hallways of COP28, we need to come together to speak with one voice. As leaders, we can't lead if there is no one behind us."
The two days of dialogue revolved around crafting adaptation measures and strategies to mitigate loss and damage; exploring the untapped potential of renewable energy sources; expediting the transition towards clean and sustainable energy; and transforming the international financial architecture, with a focus on facilitating access to blue and green finance and fostering regional cooperation on carbon pricing mechanisms.
Delving into the diverse tapestry of the Caribbean's biological systems, regional leaders discussed the impacts of climate change and explored the opportunities afforded by ocean, forests and land. These discussions underscored the need to safeguard these ecosystems and leverage their potential for sustainable growth.
Deliberations also centred on the need to shift to a more sustainable and environmentally friendly transportation system through electrification, with a commitment to reducing costs and emissions and building a reliable electric mobility infrastructure.
Climate transparency and national systems that facilitate access to data and information were also underscored as vital for tracking climate action progress and increasing international accountability.
Action plan for the future
The final High-Level Dialogue Outcome Document outlines key action areas for the future:
Uniting the Caribbean voice: Commitment to delivering identical national statements at COP28 to reinforce a unified regional perspective on priorities.
Loss and damage: Demanding new and additional support of at least $100 billion annually to the Loss and Damage Fund to finance immediate reconstruction and rehabilitation efforts in developing countries affected by extreme climate events.
Legal action against major emitters: Supporting legal actions against major emitters, such as the Antigua-Barbuda and Vanuatu International Court of Justice case.
Strengthening regional capacity: Backing initiatives like the Measurement and Reporting Verification Hub and the Organisation of Eastern European States' Statistics Unit to enhance information gathering, data analysis, and information sharing in the region.
Raising public awareness: Establishing regional public awareness programmes to emphasise the importance of climate action.
Regional approaches: Scaling up initiatives like the Caribbean Blue-Green Investment Facility in Barbados, developing regional regulatory frameworks for renewables, harmonising legal platforms, and establishing a regional hub for electric vehicle charging to support tourism.
"What stands out is that there is much willingness, much commitment to accelerate the climate agenda," said UN Climate Change Executive Secretary, Simon Stiell. "Together, the Caribbean has a strong voice, with great moral weight. United, you are a bloc that cannot be ignored. One which can, and frequently does, shape positions for much wider groups of countries, setting the bar for others to follow."