The government of the Democratic Republic of Congo (DRC) is planning to auction off 16 blocks of land to the oil industry, albeit in the Congo Basin, regarded as the second-largest rainforest in the world.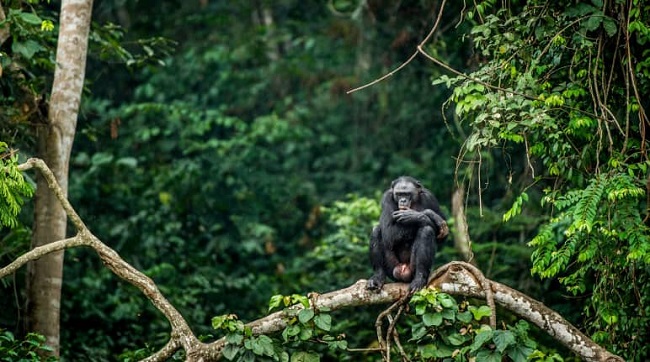 The blocks are believed to cover some of the last remaining intact forests on earth that are home to thousands of local and indigenous communities. Three of them overlap the Cuvette Centrale, a peatland larger than England that is estimated to store 30 billion tons of carbon, the equivalent to one years' worth of global emissions. Nine oil blocks overlap protected areas.
The rainforests of the Congo Basin are home to millions of people and countless animal and plant species, including three great apes: chimpanzees, bonobos and gorillas. They are a treasure trove of biodiversity and crucial to the fight against climate change, according to environmentalists.
More than half of the Congo Basin's peatlands and 60 percent of its rainforest are in the DRC, with the country playing a key role in the fight against the climate crisis.
At the Glasgow climate conference in November 2021, DRC President Félix Tshisekedi touted his country's vital role in regulating the global climate.
In a speech, President Tshisekedi promoted the vital role of the Congo Basin forests in regulating the global climate and his intention to enhance DRC's energy mix by "combining several types of energy: biomass, hydro, solar." The cost of not doing so, he said, would be a climate crisis.
But, several months after, the focus appears to have changed, as the government of the DRC plans to auction 16 oil blocks in late July 2022.
"President Tshisekedi wants to sacrifice vast areas of Congo rainforest and peatland for oil. This would be an unmitigated disaster for the climate, biodiversity and local people," said the Rainforest Rescue, an organisation dedicated to rainforest conservation that has taken up a campaign – along with groups like Greenpeace Africa, 350.org, Rainforest Foundation UK – to halt the plan.
The activists are seeking endorsements to a petition titled "Stop the development of new oil fields in the Democratic Republic of Congo."
"Together with our African partner organisations, we can put a stop to these plans," they stated, adding:
"The oil plan not only undermines global efforts and threatens the Paris Agreement's goal of limiting global warming. It also threatens the livelihoods of thousands of local, mostly indigenous communities.
"The world cannot afford any further expansion of oil and gas. According to the International Energy Agency (IEA), an immediate end to new investment in fossil fuel supply projects is the first requirement to keep global warming below 1.5°C and achieve global net zero emissions by 2050.
"In an alliance of environmentalists from Africa and around the world, we want to keep the oil in the ground and the fossil fuel industry out of the Congo Basin."