The Environmental Rights Action/Friends of the Earth Nigeria (ERA/FoEN) has backed a move towards renewable energy sources such as solar and wind energy as a solution to addressing the energy crisis in the developing world.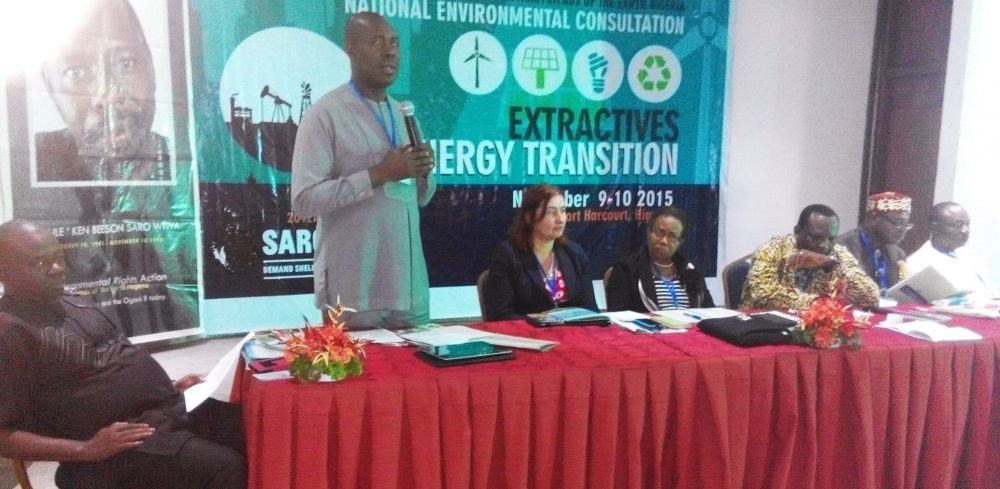 Dr Godwin Ojo, head of ERA/FoEN, who made the submission on Monday in Port Harcourt, River State, at the organisation's 8th National Environment Congress, frowned at energy from biofuels "because of their deleterious consequences on mother earth." The congress was themed: "Extractives and Energy Transition: A Roadmap to Zero-Carbon Development."
His words: "While we resist all false solutions such as biofuels to the global energy deficit, we support a move towards renewable energy sources such as solar and wind energy. Biofuels or the production of energy from food sources means that energy sources are competing for farmlands and food thus aggravating food deficits, hunger and impoverishment in developing countries.
"The African continent needs to wean itself from the imposed historical 'Energy Colonialism Syndrome' where gigantic infrastructure, huge capital and personnel are emblems of development. For the Africa continent the energy challenge remains a lack of vision to achieve the right energy mix from renewable sources. This Congress aligns with the global coalition against dirty energy to strongly resist any form of dirty energy expansion to nuclear, coal, shale gas and fracking, and tar sands oil."
While stressing that extractives thrive on subsidies, Dr Ojo urged the World Bank and other financial institutions and national governments to eliminate public finance, incentives in loans and subsidies promoting extractive activities.
"Instead, focus should be on investment in renewable energy research, green technology, subsidies and zero tariffs to promote non-grid systems. An Energy Democracy is expedient to kick-start the new energy revolution. Such energy model should be decentralised, generate green jobs, and in ways that production and supply chain are managed by the communities themselves rather than monopolistic entities," stressed the ERA/FoEN executive director.
He described the Niger Delta as an ecocide scene, which he holds the oil companies accountable.
"Nationwide, ecological devastation and pressure on livelihood sources is traced to the root of conflicts. Since oil extraction has destroyed rural livelihoods in the Niger Delta, desertification has wrecked similar havoc in the north, just as the west is also faced with deforestation and the east ravaged by gully erosion. In all these, rural people throughout Nigeria have been impoverished. Thus, rather than amnesty to a select few, a social security in the form of National Basic Income Scheme (NaBIS) of about N10,000 for all Nigerians that are unemployed is the solution to the spate of violence and loss of livelihood sources.
"Such social security will account for all unemployed including old age poverty. For Nigeria, a NaBIS is long overdue and has the potency to unlock creative potentials, reduce crime rates and promote peace and harmony in our society."
At a press conference held on Tuesday and jointly organised by ERA/FoEN, Social Action, Ogoni Solidarity Front (OSF), Movement for the Survival of the Ogoni People (MOSOP), Friends of the Earth International (FoEI) and Ogoni people to commemorate 20 years of the murder of playwright and environmental activist, Ken Saro-Wiwa, Ojo declared that oil giant, Shell Petroleum Development Corporation (SPDC), must pay the full cost of Saro-Wiwa's murder as well as polluting Ogoniland.
He said: "The 20th anniversary commemoration of Ken Saro Wiwa's murder underscores again his (Saro-Wiwa's) struggle against Shell and, by extension, polluting corporate giants and dirty energy across the globe. As you all know, the social and environmental crisis and injustice exposed by Saro Wiwa in the massively polluted Niger Delta and in particular, Ogoniland, are still ongoing. The people of Ogoniland are still suffering from the effects of fifty years of land, air and water pollution of which, Shell is the principal culprit. For us in the environmental sector, Ken Saro Wiwa's legacy serves as a beacon of hope to the Ogoni and others across the world campaigning for environmental justice and abuse-free environments."
While delivering a key note address, a lecturer in the Department of Sociology, University of Port Harcourt, Dr. Sofiri Joab Peterside, claimed that some highly placed Nigerians were behind the illegal crude oil bunkering operations in the Niger Delta region.
According to Peterside, "Oil bunkering has become an industry of its own in Nigeria. There is executive oil theft going on in the Niger Delta region. Those who are involved in this illegal act are mostly those who are in it just to ensure that they remain among the highly placed in the country.
"You may ask, why do our security men stationed at the Cawthorne channel turn the blind eye while ships come in to illegally load crude oil. You may also ask, who owns these ships."
Delivering his keynote address titled, "The Age of Fossil Fuels and the Emerging Quest for Sustainable Energy Model of Development," Peterside observed that illegal crude oil bunkering in the Niger Delta has claimed the lives of many youths.