The 2022 High-Level Political Forum on Sustainable Development (HLPF) officially opened on Tuesday, July 5, with a call to action from Collen Kelapile, President of ECOSOC and Permanent of Representative Botswana to the United Nations, to overcome the challenges facing the global community, outlining many reasons for optimism regarding sustainable development.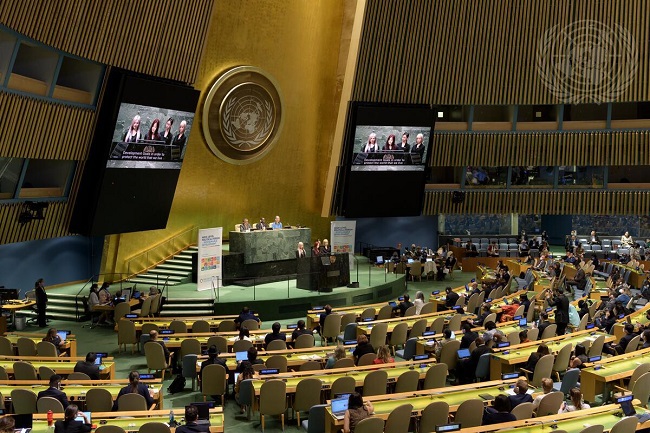 The HLPF is an annual gathering of policy makers, civil society organisations, international organisations and private sector representatives to address the most pressing issues affecting the world and plot a course forward that will address the challenges facing our people and planet. This year's theme is "Building back better from COVID-19 while advancing the full implementation of the 2030 Agenda for Sustainable Development".
In her remarks during the high-level session addressing "Financing a robust crisis response and investing in the SDGs", Vera Songwe, United Nations Under-Secretary-General and Executive Secretary of the Economic Commission for Africa (ECA), noted that it is time to get new liquidity into countries, and that the quickest way to do so is through SDRs – both the issuing of new rights and their on-lending.
Ms. Songwe also cited the liquidity and sustainability facility launched by ECA which will help reduce debt burdens, while underscoring that market mechanisms need to reward Africa for its sequestration of carbon, so that financing can be made available for Africa's green transformation.
This year, Africa is in the spotlight at HLPF with the presentation of Africa's collective position from the 8th Africa Regional Forum on Sustainable Development, and a record 21 African countries presenting their reviews of sustainable development progress to the forum. Ministers from the countries will present these Voluntary National Reviews (VNRs) from July 11 to 15, and a Regional VNR lab will be held to highlight the growing momentum behind both national and local reviews on July 11.
During the opening session of HLPF, Amina Mohammed, Deputy Secretary-General of the United Nations, summarised the diverse issues and innovative policies presented in 2022's VNRs.
The HLPF will run until Monday July 18, followed by a special High-Level Dialogue on the Sustainable Development of Africa, convened by the President of ECOSOC and the President of the General Assembly, on July 20.
Other events centred on Africa include an ECA side event showcasing the African Continental Free Trade Area – anchored pharmaceutical Initiative on July 6; Africa Day with the theme "scaling up innovative financing and leveraging partnerships" on July 12; and a high-level session on regional action for recovery and rebuilding on July 14.