The Lagos State Government says obtaining planning permit before embarking on construction as well as building in compliance with approvals is critical to environmental sustainability and national security.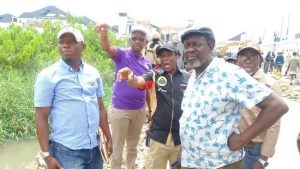 The Commissioner for Physical Planning and Urban Development, Dr Oluyinka Olumide, said this on Wednesday, October 18, 2023, during a routine monitoring of the built environment along the Lekki/Ajah corridor.
According to a statement by Mr Mukaila Sanusi, spokesman for the ministry, Olumide advised property owners and developers to obtain planning permits and stick to approvals during construction to avert the risk of demolition.
He condemned the pervasive disregard for physical planning laws across the state saying there would be no sacred cows in enforcement of the law to ensure a livable and sustainable built environment.
He directed sealing and partial removal of some contravening structures in different locations within the axis and warned the owners of all the structures under the powerlines to vacate within two weeks.
The Commissioner also assessed the clearing of structures on drainage alignments in Ikota Villa Estate by the Ministry of Environment and Water Resources.
He said compliance with planning permit was critical to environmental sustainability and national security.
Olumide added that anyone found constructing buildings without approval risked prosecution for infringement of the law, in addition to the removal of the structures.
Also on the trip were the Permanent Secretary, Ministry of Physical Planning and Urban Development, Mr Oluwole Sotire, and General Manager of the Lagos State Physical Planning Permit Authority, Mr Kehinde Osinaike.
By Grace Alegba