There is limited appreciation of the need to integrate cross-sectoral policies that consider population dynamics, technocrats drawn from various government ministries in Cote d'Ivoire meeting in Abidjan have said.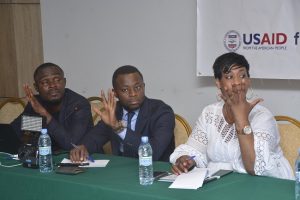 Speaking on Tuesday, July 4, 2023, at a training workshop organised by the USAID-funded Building Capacity for Integrated Family Planning and Reproductive Health and Population, Environment and Development Action (BUILD) project, various participants said there is little synergy built into work by the government and other stakeholders.
"The aim of this two-day training is to see technocrats from different ministries appreciate the cross-sectoral integrated approaches, including the population, environment, health and development," said Clive Mutunga, BUILD Project Director.
He added that the BUILD project recognises that the underlying challenges that low- and middle-income countries face – lacklustre economic development, environmental degradation, loss of biodiversity, high levels of unmet need for family planning, and rapid population growth-are interconnected.
"As a country, Cote d'Ivoire government ministries and departments work in silos, despite the immense potential of amplified cross-sectoral impacts if the work in an integrated manner. We have brought technocrats from different ministries to see if the concept of integration can be adopted," Edouard Yao, National Coordinator, Leadership for Environment and Development (LEAD) Cote d'Ivoire.
According to Yao, Côte d'Ivoire has several population, environmental and development challenges. Population growth is still high, yet the country has low use of modern contraceptives among married women (23%) and high rates of teenage childbearing (30%).
"Sectors cognisant to demographic dividend such as education, health, employment and governance seem to have little understanding of the interconnection, let alone the design of processes and tools for integrating, population issues into their policies, plans," he said, noting that as much as the country desires the wellbeing of its citizens, nothing much can be achieved as long as the system thinking has not been bought by the policy makers.
According to Dr Durand Oboue, the national coordinator, Pan African Climate Justice Alliance (PACJA) in Cote d'Ivoire Cote d'Ivoire, the training has come at an appropriate time when the country is developing its national policies on climate change including the National Adaptation Plan (NAP).
"To begin with, the country is already experiencing the negative impacts of climate change. The problem is huge," he said.
According to Dr Oboue, environmental degradation and climate change are critical factors for sustainable development in the country. He said the country has lost about 67% of its 16 million original hectares of forest cover, and only about 2.5 million hectares of forest, or less than a quarter of its original forest cover, remain.
"The country is witnessing hotter temperatures, far more inconsistent rainfall, and rising sea levels. These changes have impacted water security and the environment," said Dr Oboue, adding that the country needs to integrate her policies.
The training workshop aims to develop local capacities in the integration of population, health, environment and development (PHED). A pool of experts is expected to emerge from the engagement to drive the PHED agenda not just in Côte d'Ivoire but across the West African region.
The BUILD project has hubs in countries representing regions in Africa and Asia: Côte d'Ivoire (West Africa), Kenya (East Africa), Malawi (Southern Africa), and the Philippines (Asia Pacific).
The Building Capacity for Integrated Family Planning (FP) and Reproductive Health (RH) and Population, Environment and Development (PED) Action (BUILD) is a global programme designed to leverage the interconnectedness of Population, Environment and Development to spur strong political commitment, sustained financial resources, and accountability for voluntary family planning and reproductive health in low- and middle-income countries (LMICs).