At least 120 people were killed after a 6.2-magnitude earthquake struck central Italy in the middle of the night on Wednesday near the town of Perugia, the U.S. Geological Survey said, in what is being described by the Italian Civil Protection agency as a "severe" seismic event.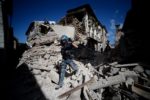 The epicentre is in the province of Rieti, northeast of Rome. Residents in the capital city reported tremors that lasted as long as 20 seconds. The mayor of Amatrice, a small town with a population of a few thousand, said buildings collapsed and that residents are stuck under debris.
"The roads in and out of town are cut off. Half the town is gone. There are people under the rubble," Mayor Sergio Perozzi said in a radio interview on RAI. "There's been a landslide and a bridge might collapse."
According to the Associated Press, a family of four in the town of Accumoli was "trapped under debris, without any signs of life." The quake hit at 3:36 a.m. local time. Italian media said several aftershocks were reported, including one that was a magnitude 5.5. Many of the buildings in the affected towns are centuries old.
A USGS geophysicist told CNN the region could be facing "very significant losses." Prime Minister Matteo Renzi's office said in a tweet that the government is "in contact with all affected areas" and was deploying rescue efforts.
Similarly, an earthquake of about 6.8 magnitude shook central Myanmar on Wednesday afternoon, in a jolt so strong it rattled residents as far away as Bangkok and Kolkota. The quake was reportedly centred about 52 miles below the earth's surface, making it less likely to cause catastrophic damage.
Most information about damage came out of Kolkata, which suspended services, including the underground metro, over fears of aftershocks. At least 20 people were injured in Bangladesh. The shaking was centred about 15 miles away from Chauk, west of Bagan. Police in the area were investigating reports that some famous monuments and temples may have been damaged.
In Italy, scores of buildings were reduced to dusty piles of masonry in communities close to the epicentre of the 3:32 a.m. quake in a remote area straddling the regions of Umbria, Marche, and Lazio.