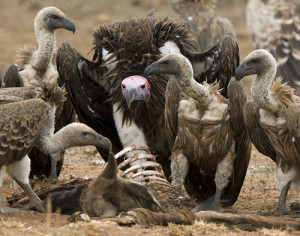 BirdLife International, the world's largest nature conservation Partnership with over 120 partners worldwide, is worried about the precarious state of vulture population in Nigeria. In a recent correspondence to concerned Nigerian authorities, the UK-based bird preservation group raises concern on the gravity of the situation and its significance to public health
Mrs Lawrentia L Mallam,
Honourable Minister of Environment,
Federal Ministry of Environment Headquarters
Block C, Mabuchi, FCT, Abuja
Nigeria
Persecution of Vultures in Nigeria and West Africa
I write on behalf of BirdLife International to seek your support on a matter that is causing concern among environmentalists globally ie widespread persecution of African vultures in Nigeria (and other countries). The African continent supports eleven species of vulture, of which eight are endemic to the continent. All of them are declining, but especially rapidly in West Africa. Nigeria hosts six vulture species, five of which are threatened by extinction. As you are aware, vultures play an extremely important role in nature. They are nature's cleaners of the environment, keeping both natural and man-made habitats free of carcasses and wastes that can cause health hazards. This way, they limit the spread of diseases such as anthrax and botulism, the latter a rare disease that causes paralysis. In Africa, they are also of cultural value to many communities, and they have an important eco-tourism value.
Research by the Nigerian Conservation Foundation (BirdLife in Nigeria) and the AP Leventis Ornithology Research Institute at the University of Jos has found that, currently, vultures in Nigeria are mainly seen dead, being sold in markets, rather than alive in the wild. It is reported that most of the vulture parts are subsequently used in fortune-telling and divination. A dried one in a market goes for Naira 7,000. Some are also sold alive, and may fetch Naira 20-25,000 each. Furthermore, the market for vultures and their part in Nigeria seems to be driving their capture and slaughter in surrounding countries. Some of the vultures in Nigerian markets are said to have been imported from both Chad and Niger Republic.
On behalf of BirdLife International, I urge the persecution of vultures in Nigeria is halted as it contravenes Nigerian Endangered Species Law. As five of these species are globally-threatened, the practice also contravenes the Convention on Trade in Endangered Species (CITES), which Nigeria has signed.
Activities that would make a difference include raising awareness of the value of vultures in the ecosystem and the illegality of hunting them or selling their parts, patrolling the juju markets and closing down those that sell vultures and vulture parts as they contravene Decree No. 11 of 1985 which stipulates that there should be no trade at all in vultures as they are Schedule 1 species, and prosecuting the people who hunt the birds and/or trade in their parts. BirdLife International is willing to work with you and with the relevant structures of your government to enhance their capacity and raise awareness to achieve this goal.
Your consideration of this matter would be greatly appreciated.
Yours sincerely,
(signed)
Dr Hazell Shokellu Thompson
Interim Chief Executive
BirdLife International
Cc:
Mr Adeleke Alade Adeniran
Ag CEO & Director, Technical Programmes
Nigerian Conservation Foundation
Lagos, Nigeria
Mr Mark Anderson
Chairman BirdLife Africa Partnership & CEO
BirdLife South Africa
Johannesburg, South Africa
Dr Julius Arinaitwe
Director, BirdLife International Programme
Nairobi, Kenya