The Federal Government has reiterated its commitment to ensuring that only safe genetically modified products will be allowed in the Nigerian market.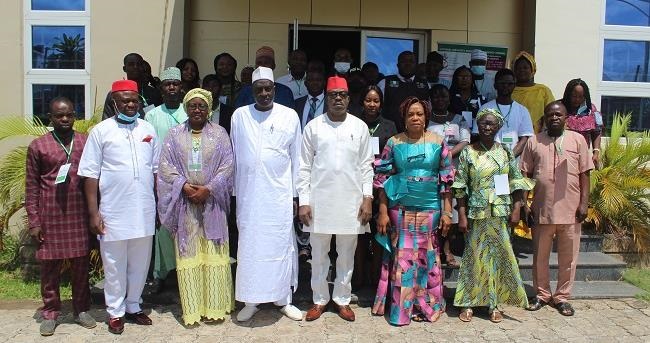 Director General/Chief Executive Officer of the National Biosafety Management Agency (NBMA), Dr. Rufus Ebegba, who reiterated this commitment at a one day sensitisation workshop on biosafety (genetically modified organism's safety and regulation) in Nigeria, in Lafia the Nasarawa state capital on Thursday, October 14, 2021, said that the agency is not resting on its oars in ensuring that only safe and approved genetically modified seed and grains for food and feed processing are allowed into the Nigerian market.
"Since coming into existence, the NBMA has put in place regulations, guidelines and policies to ensure that the products of modern biotechnology (genetically modified organisms) can be deployed safely in Nigeria.
"The NBMA was not created to stop genetically modified organism (GMOs) but to ensure that Nigerians and the environment are safe from any adverse impact they may have on human health and the environment.
"This workshop is aimed at sensitising Nigerians on the state of biosafety in Nigeria with regards to genetically modified organisms and their safety, while updating the general public on the activities of the Federal Government in the area of biosafety management in the country," he said.
Dr. Ebegba noted that, globally, safe science and technology have been known to be drivers of economic change,
His words: "Nigeria cannot afford to be left behind and that is why the Federal Government through NBMA makes sure it approves only safe application of modern biotechnology for the economic development of the country particularly in the agricultural sector.
"The NBMA is very thorough in its dealings and before any approval is granted, the National Biosafety Committee and the National Biosafety Technical Committee meet to analyse, deliberate on the product and decisions are taken after careful and thorough analysis of the application. This rigorous process most times extends to days of deliberation and careful analysis."
Head of Planning, Research and Statistics in the NBMA, Mrs Bello Scholastica, while giving participants the expected outcomes of the meeting, listed the objectives of the workshop.
Representative of Nasarawa State Ministry of Environment, Mrs Chammang Atinuke (Director Department of Climate Change), expressed gratitude at the opportunity to be at the workshop, adding that the Ministry of Environment is always ready to partner with the NBMA.
She said that the Ministry is also doing its best to complement the efforts of the NBMA in the area of conservation of biodiversity and reiterated the commitment of the Ministry to assist the NBMA in any way possible.