The Director General/CEO, National Biosafety Management Agency (NBMA), Dr. Rufus Ebegba, has reiterated the agency's commitment to put safety first in the regulation of genetically modified organisms (GMOs) in Nigeria.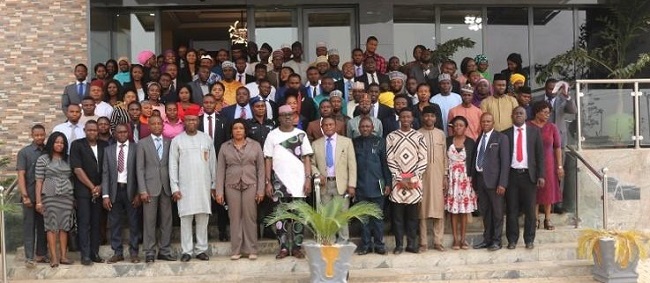 He stated this while declaring open a one-day training workshop organised for the staff of the NBMA.
Dr. Ebegba stressed that government deemed it fit to establish NBMA to save Nigeria from becoming a dumping ground for unregulated GMOs and their by-products with the state-of-the-art GMO Detection and Analysis Laboratory of the NBMA ensuring that proper safety analysis is carried on GMOs.
He described the Nigerian biosafety system as the best in Africa as, according to him, government has resolved to exploit the potentials of modern technology with a proper regulatory mechanism in place to safeguard human health, environment and biodiversity from potential adverse impact.
Director, Environmental Biosafety and General Release of the Agency, Ms. Nzeduru Chinyere, in her presentation titled "Biosafety and Biotechnology in Nigeria", noted that biotechnology is as old as man. She states that, prior to modern biotechnology, humans modified plants traditionally.
"Modern biotechnology is an improvement on the traditional modification of organisms and there is need to regulate this practice," she stressed, noting that no commercial release can be done without proper risk assessment of the genetically modified product to guarantee its safety.
Head of Planning Research and Statistics, NBMA, Mrs. Bello Scholastica, reaffirmed that Nigeria is ranked high in GM regulation in Africa. She noted that government has put in place the necessary legal framework to regulate modern biotechnology and that, with this, the agency will not condone breach of law by individuals or organisations to trade in GMOs without a Biosafety Permit from NBMA.
Head of the Legal Unit of the agency, Mrs. Onyilofor-Aja Nkiruka, in a paper presentation titled "The Cartagena Protocol and the NBMA Act 2015", stated that the Cartagena Protocol signed by Nigeria, as well as 194 other countries, aims to safeguard human health and environment from any unintended risks that could result from the practice of modern biotechnology. She also added that Nigeria has made great strides in the domestication of the protocol.
The daylong forum, it was gathered, was organised as part of government's efforts to strengthen the Nigerian biosafety system to ensure proper regulation in the field of safe transfer, handling and use of GMOs.