The Catholic Archbishop of Ibadan Archdiocese, Most Revd. Gabriel Abegunrin, has called for collaborative efforts to attain sustainable actions toward preservation of the ecosystem.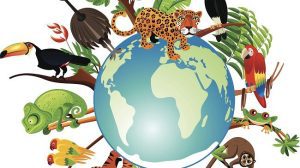 Abegunrin made the call on Monday, May 22, 2023, at an event organised to commemorate the 2023 International Biodiversity Day in Ibadan, the Oyo State capital.
The event was organised by GIS Konsult, in collaboration with the Dominican Community, to celebrate the 50th anniversary of the Dominican Chapel and the 700th anniversary of the Canonisation of St. Thomas Aquinas.
Abegunrin said that the Catholic Bishop Conference of Nigeria had begun the drive toward the conservation of biodiversity of the ecosystem with the mandate of planting 20,000 trees yearly by each diocese.
"This is to say that we want to curb desertification, again to make the soil rich and if there are plants on it, the soil will generate the food we need.
"Wherever there are lots of greens then, oxygen is plentiful there, maybe the reason some people are dropping dead because of lack of oxygen.
"Food also will be plentiful when we plant things; there are a lot of gains behind it that human beings can benefit from as over a billion people are suffering from hunger in the world.
"This is one of the things that would alleviate hunger and our soil is rich, this is a big effort we all should do," Abegunrin said.
In his address, Prof. Ayoade Ogunkunle, the Chairman, GIS Konsult and President, Nigeria Institute for Soil Science, Abuja, called for knowledge sharing and education of the populace to reduce human activities that destroy the ecosystem.
"People like us, who know the way the ecosystem is being destroyed make sure that those who are practicing, particularly those who are dealing with the soil, the farmers and others who clear roads and road makers should know that soils are of different qualities and the best quality should be reserved," Ogunkunle said.
Also, in his presentation, Mr David Afolayan, the Agro-Biodiversity Conservation Project Coordinator, said UN expected that all those who signed COP15 should move from agreement to action.
"We identified this community as a biodiversity rich environment and in their celebration, they have agreed to build back biodiversity.
"They have trees on ground which we are naming and tagging, and we are putting them on a digital platform that will enrich knowledge of young people that are coming.
"We are engaging various scientific bodies who are collaborating with us and bringing detailed knowledge about our environment," Afolayan, also the Chief Executive Officer, GIS Konsult, said.
He said that 700 trees would be planted in the Dominican community, which would serve as a model for all schools across the state.
According to him, Nigeria as a whole is to identify and preserve the endangered tree species and those at risk and plant new trees.
Afolayan, however, called on individuals, schools and organisations to have conservation gardens to preserve biodiversity.
In his keynote address, Dr Timothy Ajiboye of the National Centre for Genetic Resources and Biotechnology (NACGRAB), reiterated the importance of biodiversity to humans and the environment, health and medicine as well as preservation of land degradation and food production.
Ajiboye said, "Biodiversity includes microorganisms and fauna which are animals and florals which are plants; and they are all important for our wellbeing. We should learn to protect our environment and plant a tree today."
Also, Dr Adedotun Afolayan, President, Society for Conservation of Biology, said that commemoration of the day was a call to action to bring back the lost biodiversity.
"Everybody's hand must be on deck. We are all called to save biodiversity, whether they are the threatened one, endangered one or the critically endangered one and it starts from little actions," Afolayan said.
In his remarks, the Prior, Dominican Community, Ibadan, Fr. Paul Akpomie, said: "As a community, we are trying to tap into the United Nations charter concerning biodiversity.
"So, today we are not just putting it as principles, we are putting it to work to preserve indigenous crops."
By Ibukun Emiola