The Bill outlawing open grazing in Benue State has been signed by the Benue State governor, Samuel Ortom, into law.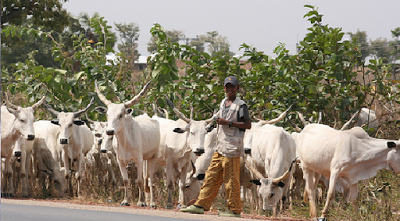 Governor Ortom, who assented to the bill at a stakeholders' meeting at the Benue People's House, Makurdi, on Monday, May 22, 2017 described the development as a right step taken in a right direction.
According to Ortom, his administration would do all it could to protect the state from intruders and criminals.
While thanking those who sponsored the bill, the governor urged them to continue to support his government's vision of making Benue a great state.
It will be recalled that the Benue State House of Assembly on Thursday, May 4 passed the bill prohibiting Open Rearing and Grazing into law.
The law states: "Nobody will be permitted to carryout open grazing outside the permitted ranches.
"Any person who contravene this act shall be guilty and upon conviction be sentenced to five years' imprisonment with a fine of N1 million.
"Where damage is done to the crops the farm will be evaluated and the manager of the livestock be compelled to pay.
"Movement of livestock on foot within the state is hereby prohibited. Any person who contravenes this shall pay be sentenced to one year imprisonment or pay a fine of N500,000.
"Any livestock owner or manager who carries fire arms shall be treated under the penal code. All ranchers shall engage the services of security agencies.
"Any person who rustles cattle shall be sentenced to five years imprisonment or pay a fine of N100,000 per cow. Any livestock wandering shall be impounded by the department of livestock.
"Any livestock impounded and the owner not found shall be auctioned to the public and the proceeds be deposited into the state consolidated revenue account.
"There shall be established a special open prohibition Task Force and they shall enforce this laws as stipulated."
By Damian Daga, Makurdi