Climate advocates and environmentalists who gathered in Lagos from October 18 to 19, at the 2023 Climate Story Lab explored innovative ways to tell climate stories for social impacts.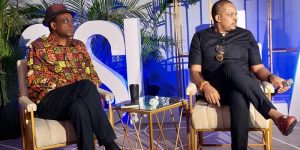 At the event organised by Surge Africa, diverse voices from different sectors within the creative industry had an opportunity to discuss important roles they play in influencing the decisions of the people in relation to their environment.
Nasreen Al-Amin, head of Surge Africa, in her opening remarks, said: "There is a significant amount of campaign and advocacy coming out of the climate sector, we did recognise that there is need for the campaigners such as the filmmakers, the storytellers, the podcasters, the musicians and activists to also align themselves with the creative industry.
"In essence the Climate Story Lab is organised to amplify voices of the vulnerable and we created that platform specifically to be able to convey people from different sectors, expertise in all walks of life to explore questions around what are the narratives that exists. What are the stories that we are telling? Are these the stories that we should be telling? What are the gaps that have been identified within the climate justice movement and what are we doing to bridge that gap?" she queried.
"We feel that someone somehow will find value in the discussion and be inspired into a new thinking about how to address these issues. We hope and desire to see a narrative shift on how we address these issues through interrogation existing narratives, through interrogating our own belief system and also cut processes to say that are we really where we need to be, are we dancing to our own beat or are we taking on other people's issues and narratives and thinking that they are our own," she stated.
Climate activist and the Executive Director of the Health of Mother Earth Foundation (HOMEF), Nnimmo Bassey, highlighted the discrepancies between climate change reparations and financing.
Bassey noted that the unfulfilled promises from developed countries to address the impact of climate change in Africa have continued to pose a devasting influence on the continent.
Bassey stressed that Africa should adopt creative story techniques that would shape imaginations and convictions and not just opinions, adding that Africa should know that the perspectives and approaches to addressing climate change are so different.
He underlined the need to understand communities and feed them with climate information in ways they can understand through campaigns from cultural perspectives.
Michael Simire, the Editor-in-Chief of EnviroNews, noted that the use of multimedia to educate local citizens on climate issues has been effective in making some differences in society.
He pointed out that, to inspire awareness and engagement with climate issues among the public, storytelling in environmental journalism has to be targeted towards making an impact in the lives of the recipients of the news.
"It should relate to their daily challenges and basically tell their stories. They should be given a voice to express themselves and list their trails and triumphs. The storytelling should accommodate the voices of impacted parties and should seek to offer solutions to identified challenges," Simire said.
Henry Bassey, founder of GreenHubAfrica, and Habiba Ali, the CEO of Sosai Energy, emphasised the importance of effective and contextual communication that is understandable to all to take climate action.
Mr Bassey noted that for the adoption of renewable energy, there is a need to understand the principles of communication and advocacy to amplify climate change conversation through billboards, but there are challenges to government approval and funding.
Mrs Ali on her part believes that storytelling is essential for climate change action, noting that the stories have to be authentic and real-life stories of people that resonate with people to take more action.
She added that it is important to tell stories that relate to the adoption of clean fuels for behavioural change, which also means communicating climate change without dappling people's hopes.
Ken Henshaw, the director of We The People, a non-governmental organisation based in Porth Harcourt, Rivers State capital, noted that while there is agitation for a just energy transition, it has to include repairing the damage occasioned by oil pollution.
He sought an audit of the health of the people and a plan to respond to the threats posed by climate change.
"A just transition must also provide justice for the countless victims of oil company-inspired and state-sanctioned abuses, and reparations to the people of the Niger Delta for decades of expropriation," he noted.
In her submission, Emily Wanja, Director of Africa Programmes, DocSociety (Climate Story Unit) is of the opinion that storytelling is a powerful tool of affecting behaviour and shifting minds and consequently driving action.
While decrying some of the challenges hindering climate advocacy, the Kenyan said "meeting people where they are and speaking their language is a major challenge. This is not just in Kenya but across Africa. We have many ethnic groups but also just the language of articulating and speaking about climate. The term climate as defined does not resonate a lot of our communities where we speak different languages.
"There is a challenge in terms of capturing and telling stories that reflects these languages of our communities. There is also a challenge of resources, the cost of bringing things together which involves building capacity and disseminating the work after production," she added.
According to Wanja, there have been a lot of efforts from the government of Kenya drafting Climate Action Plans in recent years but for desired results to be achieved more collaborations from the people is required.
Mathew Ohio, Co-Founder of Music Assembly Against Human Trafficking, said: "Artistes, musicians and other practitioners in the creative industry can do a lot in using their creativity to talk about issues relating to the society because issues like climate change, gender base violence and social injustices among others are becoming rampant and through art this can be checkmated.
"We can take advantage of the popularity of our art expressions to raise awareness on how we can find solutions in responding to those issues."
Surge Africa hosted the Lagos edition of the Climate Story Lab in collaboration with the Heinrich Boell Founedation and the Global Strategic Communications Council (GSCC).
By Ajibola Adedoye