International climate expert and leading advocate for climate action in Nigeria, Professor Chukwumerije Okereke, recently convened a climate education and tree planting exercise in Enugu State.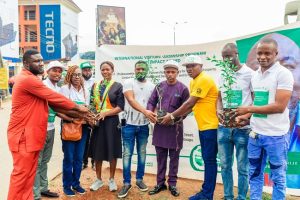 The state tree planting exercise is one of the programmes mapped out for the implementation of the International Visitors' Leadership Programme (IVLP) impact award given to Prof Chukwumerije Okereke by the United States Department of State's Bureau of Educational and Cultural Affairs.
The exercise involved the planting of 35 ornamental trees along the road from P&T Bus Stop towards Ziks Avenue in a bid to raise awareness about the dangers of climate change and urban air pollution and the positive role of urban greening in combating both challenges.
The state tree planting exercise was flagged off by the Commissioner for Environment in Enugu State, who was represented by the Permanent Secretary of Ministry of Environment, Mr. Albert Obiora Ekete. The flag-off was witnessed by 24 young leaders present, staff of the state Ministry of Environment; CEO of Eco-cyclers, Ms Oge Nwonye; a member of the State Government Palliative Team, Mr. Basil Ojengwa; and several other volunteers who joined the exercise.
The young leaders had been selected from over 4,000 applications to be trained on the fundamentals of climate change science, urban air pollution, and climate advocacy to equip them to become more active citizens and more effective in spreading the message of climate action.
A total of 35 ornamental trees (Green Ficus) were planted by the participants with help and support from the staff of the Ministry of Environment that came with the Permanent Secretary. Each of the participants present planted a tree after the flag-off was done by the Permanent Secretary. The campaign also involved an arrangement with the State Ministry of Environment to water and care for the trees to ensure they survive and flourish.
The Nigeria Television Authority (NTA) Enugu channel and other news media were there to cover the event.
Professor Okereke thanked the Commissioner for Environment, Prof Sam Ugwu, the Permanent Secretary Albert Obiora Ekete, and the entire staff of the State Ministry of Environment for supporting the exercise. He thanked the  United States Department of State's Bureau of Educational and Cultural Affairs and their implementing partner, Meridian International, for giving him the opportunity to contribute to climate awareness, leadership training, and the sustainable development of Enugu State through the IVLP impact programme.
He assured them that he is committed to working with them to empower more young leaders in the state and beyond to become active citizens in promoting stronger climate and environmental action in the state.
The young leaders were informed that the next activity would be the school visit to educate the students on urban greening and tree planting.
For the organisation and implementation of the programme, Professor Okereke was actively supported by Eco-cyclers, the Centre for Climate and Development, and the Society for Planet and Prosperity.