Non-government organisations (NGOs) from South, Southeast and East Asia have called on national governments to adopt and strictly implement regulations to address endocrine-disrupting chemicals (EDCs) in products. The NGOs are participating organisations (POs) of the International Pollutants Elimination Network (IPEN), a global civil society network working for a toxics-free world.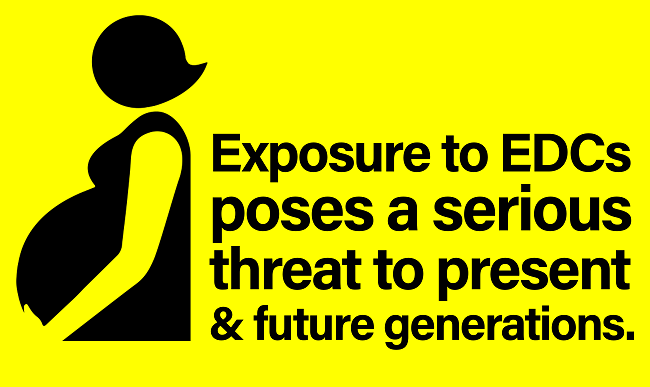 At a recently held EDC- Free Asia Conference, the NGOs discussed the results of a regional study undertaken in partnership with the Wonjin Institute for Occupational and Environmental Health (WIOEH), with support from the Financial Industry Public Interest Foundation (FIPIF), Korea to determine the presence of phthalates in erasers and bisphenol-A (BPA) in thermal papers, and to promote regulatory reforms.
Among the IPEN POs involved in the EDC project were Gita Pertiwi and Ecological Observation and Wetlands Conservation (Indonesia), Consumers' Association of Penang (Malaysia), Interfacing Development Interventions for Sustainability and EcoWaste Coalition (Philippines), Research Centre for Gender, Family and Environment in Development (Vietnam,), Environmental and Social Development Organization (Bangladesh), Centre for Public Health and Environmental Development (Nepal), Centre for Environmental Justice (Sri Lanka), Toxics Watch Network (Japan), and WIOEH (Korea).
WIOEH and FIPIF co-organised the said conference to publicise the study results and call on the governments to ensure that all citizens of Asia, not just Korea, are safe from hazardous chemicals substances, particularly EDCs which are substances that interfere with the ways the body's hormones work causing adverse health outcomes.
A total of 341 sample erasers were purchased from eight countries and forwarded to the WIOEH laboratory for testing. The total amount of phthalates exceeded the Korean limit of 0.1% in 104 (30.5%) of the samples analysed. DEHP was the phthalate most frequently found in the samples, followed by DBP and DiBP. DEHP and DBP are known EDCs, and their use in children's products has already been restricted in the European Union (EU) and the USA.
For the thermal paper receipts, a total of 355 were submitted to WIOEH but only 318 were tested since the other samples were identified as normal papers. Study results show that most of the analysed thermal receipts contain BPA (54.7%) or bisphenol-S or BPS (37.7%).  Thermal paper receipts might be one of the main exposure sources for BPA/BPS in Asian countries.  At present no regulation bans the use of BPA and BPS in thermal paper across the region.
During the conference, the WIOEH shared Korea's experiences in addressing EDCs and also discussed ways to cooperate to make Asia safe from environmental hormones.
Dr. Kim Won, EDC project leader, said: "The WIOEH and neighbour NGOs in Korea have been participating in research, education, and campaign efforts to elevate citizens' awareness on hazardous chemicals in products that are used in our everyday life. The scientific findings made have acted as useful tools to persuade governments to make and strengthen the regulation on toxic chemicals in products."
WIOEH strongly believes "when governments tighten regulations and citizens try to improve the environment and lifestyles, we will be able to create a hazardous chemical-free society," citing Korea's moves to shift to phthalate-free products.
For example, phthalate standards for flooring materials in children's living spaces have been enacted with the recent revision of Korea's Environmental Health Act.  FIPIF promoted a project to replace phthalate-containing products such as flooring and wallpaper to reduce environmental hormones in day-care centres. In this process, the WIOEH confirmed that when the flooring material was replaced with a phthalate-free product, the reduction rate of phthalate in indoor dust was 70% and the phthalate metabolite in children's bodies decreased by 30%.
Speaking at the conference, Jitka Strakovà, IPEN global researcher, raised the alarm that BPA is still in widespread use and only banned in a few products.
"What's even more concerning is the increasing use of similar bisphenols which add to the threat to human health and the environment," she said, noting that "EDC is a SAICM emerging issue and one of the important calls of IPEN is the need to prioritise eliminating EDCs that affect the most vulnerable, particularly women of childbearing age, the unborn fetus, and children."
SAICM stands for the Strategic Approach to International Chemicals Management.
"The detection of EDCs in erasers (a product commonly used by school children) and in thermal paper receipts (a material typically handled by store cashiers who are mostly women) obtained from the Philippines should serve as a cue for governmental authorities to urgently fix policy gaps to protect vulnerable populations like women, children and babies in the womb from the adverse effects of exposure to EDCs," said the EcoWaste Coalition and IDIS.
According to the report, "Plastics, EDCs, and Health" published by the Endocrine Society and IPEN, "EDCs are linked to neurological and behavioral disorders, obesity and metabolic dysfunction, reproductive disorders, and hormone-sensitive cancers," noting that "the production and use of phthalates is a public health concern because several phthalates have been identified as EDCs." Experts have warned that "EDC exposure and effects can occur at very low doses, below an established regulatory threshold," implying "there is likely no 'safe' dose of an EDC."