The president designate of the 28th Session of the Conference of the Parties (COP28) to the United Nations Framework Convention on Climate Change (UNFCCC), Sultan Al Jaber, said on Sunday, October 8, 2023, that adaptation must be "front and centre" of the climate agenda.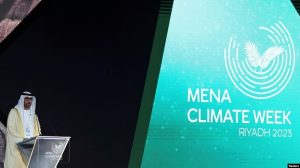 "We live in a region of extreme heat, water scarcity and food insecurity. We are also suffering harsh climate impacts, from droughts to the devastating floods of Derna," Jaber said, speaking at the opening of MENA Climate Week in the Saudi capital, Riyadh.
"To deliver for our region we must put adaptation front and center of the climate agenda."
Jaber also said that donors must double adaptation finance and replenish the green climate fund.
Adaptation means investing in ways to adapt to climate change like early warning systems, food systems and crop yields.
The COP28 summit is scheduled to take place in Dubai between Nov. 30 and Dec. 12.
The summit is seen as a crucial opportunity for governments to accelerate action to limit global warming with reports so far showing countries are off track to meet promises to limit the rise in global temperatures to 1.5° C.
Jaber was a controversial pick to lead the summit because his country is an OPEC member and a major oil exporter.
He has argued for a more inclusive COP that brings the oil and gas industry into the climate debate.
"We have had 27 COPs, and you might be surprised to learn that 17 of them have been hosted in fossil fuel producing nations," Jaber said on Sunday.
"The fact is, energy is fundamental to everyone, everywhere."
According to the UNFCCC, the second-ever MENA Climate Week opened with a packed schedule of events designed to shine a spotlight on challenges and solutions in a region that is among the most vulnerable to the effects of climate change.
Taking place in Riyadh from October 8 to 12 and hosted by the government of the Kingdom of Saudi Arabia, the discussions at MENA Climate Week, says the UN body, will feed into the year-end UN Climate Change Conference (COP28) in Dubai. Participants in Riyadh will speak about the challenges and opportunities for climate action and support in the MENA region, which will help inform the global stocktake and accelerate implementation of the Paris Agreement.
The global stocktake, which concludes at COP28, is said to be an opportunity to critically assess where the world stands on climate action and to chart the course forward through increased ambition and action to limit global warming to 1.5°C.
Prince Abdulaziz bin Salman, Saudi Arabia's Minister of Energy, said: "We are pleased to host the second edition of MENA Climate Week in Riyadh, a sign of the Kingdom's unwavering commitment to exploring all solutions to the climate challenges we currently face. MENA Climate Week will explore advancing climate action and inclusive approaches including the Circular Carbon Economy approach which promotes the use of all available technologies, forms of energy and mitigation opportunities that would contribute to achieving climate goals."
The entire MENA region has been described a climate change hotspot, with climate models predicting temperatures 20% higher than global averages. It is already the most water-scarce region in the world – and the increasing temperatures are predicted to lead to more persistent and acute drought.
More than 60% of the population in the region has very little if any access to potable water, and 70% of their GDP is vulnerable to water stress. As 70% of MENA's agricultural production is rain-fed, the region is extremely vulnerable to changes in temperature and rainfall resulting from climate change.
Simultaneously, countries in the MENA region have the potential to be the frontrunners in renewable energy and innovative technologies, attracting investment and facilitating technology transfer, positioning MENA nations as leaders in the global transition to green development.
"The Middle East and North Africa region is at a crossroads, facing not only the devastating impacts of climate change but also the challenge of transitioning their economies to ensure prosperity in a 1.5C aligned world," said Simon Stiell, Executive Secretary of UN Climate Change. "MENA Climate Week provides a platform to spotlight regional solutions and innovations, paving the way for strengthened collaboration across borders, sectors, and disciplines."
"Climate change isn't a threat waiting around the corner – the MENA region knows this from first-hand experience with fierce heatwaves and water shortages. This Climate Week, I invite participants to grasp the opportunity to shape a resilient future for the MENA region and beyond. Let us harness innovation and inspire transformative action because every fraction of a degree matters," said Inger Andersen, Executive Director of the UN Environment Programme (UNEP).
"Climate change, environmental degradation, and resource scarcity are already undermining development progress in the Arab States region – exacerbating inequalities, eroding social cohesion, and precipitating new threats to public health, peace and security," said Abdallah Al Dardari, UN Assistant Secretary-General and UNDP Director of the Regional Bureau for Arab States. "Increasing investment in clean energy and climate resilience will bring multiple benefits, not just for climate change mitigation and adaptation, but for job creation and social inclusion as well."
COP28 will be held in the United Arab Emirates later this year.