Amsterdam has just joined the growing and diverse list of supporters in the call for a Fossil Fuel Non-Proliferation Treaty, which was recently signed by their Mayor on behalf of The Board of Mayor and Aldermen.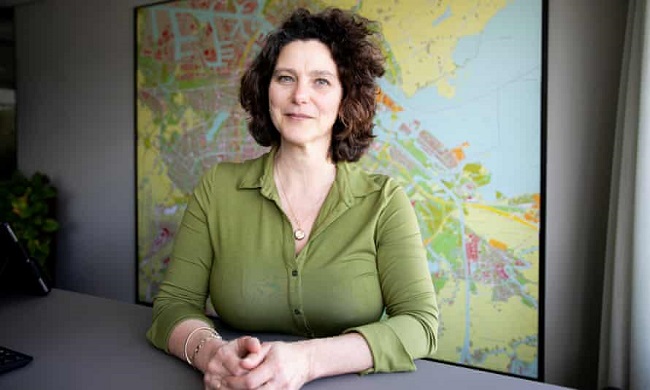 As one of Europe's largest energy ports and a major historical exporter of coal, the Dutch capital's support for a global initiative to phase out fossil fuels has been described as one of the most significant endorsements of the Fossil Fuel Treaty campaign to date.
Amsterdam joins 34 other municipal governments that have committed to act in accordance with the climate emergency by ending fossil fuel production, responsible for more than 86% of CO2 emissions in the last decade.
Deputy Mayor and Alderperson of Sustainability, Marieke van Doorninck, said: "The disastrous impact of climate change requires global and decisive cooperation. To achieve a just and swift transition from the use of fossil fuels to sustainable alternatives, all governments must be committed to limiting the spread and use of fossil fuels. As the municipality of Amsterdam, we too have great ambitions in reducing emissions and investing in sustainable energy.
"Amsterdam wants to do its fair share in the fight against climate change. As a major contributor to greenhouse gas emissions, we owe it to communities elsewhere in the world, who often emit far less and suffer far more, to take the lead in taking action."
Femke Sleegers, Coordinator at Reclame Fossielvrij (Fossil Free Advertising) and Social Tipping Point Coalition, welcomes the news, saying: "Amsterdam is the first capital that signs the Treaty. Again, the city sets an important example in phasing out fossil fuels, after its decision to ban fossil ads from its streets. I hope this new step towards a fossil free future inspires many cities and countries worldwide to do the same. This can incite a social tipping point!"
James Crossley, Creative & Communications Manager at BYCS, said: "We are very pleased to see Amsterdam City Council taking on the Fossil Fuel Treaty, and hope this will accelerate a fossil free future."
At COP26 in Glasgow, the Netherlands joined 25 countries and institutions that committed to end public financing of coal, oil and gas projects by the end of 2022. This announcement was possible thanks to efforts of Dutch civil society, who were also key in calling for Amsterdam to ban fossil fuel advertising and getting a national court to stipulate to Royal Dutch Shell that it had a duty of care to bring emission reductions in line with the Paris Agreement. However, despite this recent progress, the Netherlands continues to export fossil fuels and is yet to join the recently launched Beyond Oil and Gas Alliance.
Seble Samuel, Cities Lead for the Fossil Fuel Non-Proliferation Treaty Initiative, said: "We are thrilled to see Amsterdam join a rising tide of global cities demanding an end to fossil fuels. We want these endorsements to transcend PR stunts and greenwashing, and for cities to take concrete action to remove the social license of the fossil fuel industry to operate and equitably phase-out fossil fuels from their cities. The campaign to end fossil fuel advertising in Amsterdam is a critical element in this movement, and an equitable phase-out of Amsterdam's coal exports will be essential."
Amsterdam is the latest in a wave of cities to endorse the Fossil Fuel Treaty in recent weeks including Grenoble (France), Itahari (Nepal) and Burnaby (Canada). These endorsements come after Vancouver, Los Angeles, Sydney and Barcelona initiated a global trend of municipal governments calling for greater international action to address fossil fuels in 2021.
The campaign for a Fossil Fuel Non-Proliferation Treaty was inspired by treaties that addressed the threats of nuclear weapons, landmines and other dangerous substances.
Over the past year the campaign has been supported by 101 Nobel Laureates, 2,600 academics, 170 parliamentarians, hundreds of prominent youth leaders, a growing group of faith leaders, and more than 1,300 civil society organisations, including Catalyst 2030, Limaatzuster, Citizens' Climate Europe, Both Ends and Fridays for Future Leeuwarden.