Philippine provincial governor said on Monday, March 13, 2023, that the oil spill from a motor tanker that sank a few weeks ago has affected almost 100,000 people in a Philippine province.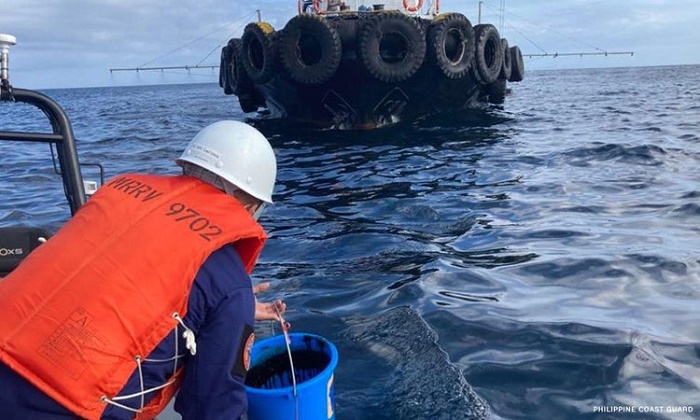 The governor said the residents have been affected by the loss of livelihood, health risks, and other impacts as a result of the oil spill.
The spill came from MT Princess Empress, which was carrying 800,000 litres of industrial oil when it sank on March 1 off the province of Oriental Mindoro, about 160 kilometres south of Manila.
Provincial Governor Humerlito Dolor said the tanker was still leaking, and the owner of the ill-fated vessel was working on dispatching a remotely operated vehicle to seal the leak.
"The damage to the province is quite heavy, especially to (the town of) Pola, where the oil spill reached the shorelines of all villages.
"The most affected are the fishermen and their families, vendors of fish and fishing gear.
"The damage to our marine life and marine resources is also quite big. Many fish have died, while sea grasses, corals, and mangroves are also damaged."
Dolor said at least 19,956 families or more than 99,000 individuals have been affected, while at least 122 people have reported suffering from respiratory illnesses, nausea, vomiting, and diarrhoea due to the oil spill.
The ocean conservation group Oceana warned that shifting sea currents have brought some of the oil spill up north to near Verde Island Passage, one of the most biodiverse marine habitats in the world, serving as home to thousands of species.
"It's a nightmare," Gloria Ramos, vice president of Oceana Philippines, said.
"It affects everything, livelihood, marine ecosystems, and capacity of resources because it kills everything. There are also health impacts on the people.
"It's worrisome because they are helping collect the oil which is very dangerous with their bare hands, and studies have shown that they can develop kidney and liver ailments. It's that toxic."
Liza Osorio, legal and policy director of Oceana, noted that it would take at least 10 to 15 years for mangroves to reach maturity so recovery from the oil spill "is not going to be easy."
"Clean-up is just on the surface, you remove whatever you can from the surface," she said.
"But the oil can seep into the substrates and the sediments. What's happening now is they're really underestimating the impacts to say that this can be done in four months."
The owner of the tanker, RDC Reield Marine Services, said it was working closely with the government, local officials, international experts, and responders to mitigate the impact of the oil spill.
The company said in a statement released on Monday that "we are truly sorry that this incident has affected the livelihoods of those living in the impacted areas and the spill's effect on the environment.
"We are committed to doing everything possible to minimize the ongoing impact on the environment and people's lives and clean up the spill.''