Vice Chancellor of the Al-Hikmah University, Ilorin, Prof. Noah Yusuf, says climate change, deforestation and the depletion of natural resources are stark realities that demand everyone's immediate attention.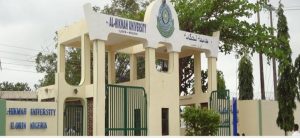 Speaking on Wednesday, August 23, 2023, at the flag-off of the Green Campus Initiative at the Igbaja Campus of the university, and the foundation-stone laying of the  AbdulRaheem Oladimeji-FRIN Outpost, the Vice Chancellor said "the future of our planet depends on the action we take today."
He said by initiating this tree-planting programme, the university pledges its commitment to combatting climate change and ensuring a healthier ecosystem for ourselves and future generations.
"Al-Hikmah University has always been at the forefront of academic excellence, and it is only fitting that we take the lead in environmental conservation as well.
"Trees are more than just a source of oxygen; they are the guardians of biodiversity, combatants against soil erosion, and providers of habitat for countless species.
"As we plant these trees, we sow the seeds of hope, resilience, and sustainability.
"Just as our students are nurtured here to become responsible citizens and leaders, these trees will thrive and flourish, contributing to the health and vitality of our environment.
"Our Igbaja Campus will serve as a living testament to our dedication. It will transform into a lush oasis of greenery, a sanctuary where both knowledge and nature coexist harmoniously," he said.
The Vice Chancellor said that the university management has resolved that the exercise shall be a continuous one during every official event, particularly visitations, inaugural lectures, conferences, Matriculation and Convocations.
Also, the Director-General of Forestry Research at Shows Institute of Nigeria (FRIN), Prof. Zakariya Yaduma, said the tree-planting initiative will offer environmental conservation outreach to members of the university community.
According to him, it will complement national and global conservation efforts to save endangered tree species as trees will be allowed to grow to their full natural form for both scientific observation and environmental sustainability satisfaction.
He implored the university management to keep on working together "to ensure that we use our nature in such a way that it will not affect its availability for future generations".
He said one of the requirements to achieve nature's sustainability is to support all conservation efforts.
Also speaking, the founder and Board of Trustees Chairman of Al-Hikmah University,  Alhaji  AbdulRaheem Oladimeji, the Jagunmolu of Igbominaland, thanked FRIN and those who facilitated the initiative for a job well done.
By Afusat Agunbiade-Oladipo