The cassava peel has been identified as the best, cheapest and most nutritious option in processing animal feeds.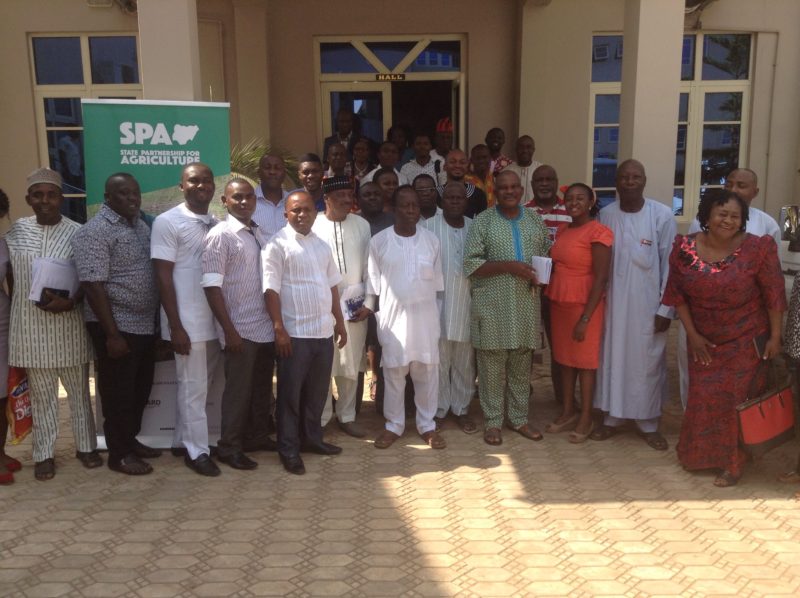 Making this known on Friday, 9th December, 2016 at the 4th Agricultural Vision Group (AVG) and Agricultural Innovative Group (AIG) Meeting that held in Makurdi, Benue State, the Benue State Team Lead, Synergos, Mr Michael Agon, said it serves as a good component for feeds, especially for ruminants because of its fibre content.
According to him, they discovered that the cassava peel which were usually considered waste and dumped; thereby becoming environmental waste had more fibre than the cassava itself.
Agon, who maintained that the current administration in the country has exposed the country to many opportunities by encouraging homegrown products and processing, charged Nigerians to key into the opportunities and help stop importation of agricultural produce, especially those from cassava and rice.
According to him, these opportunities, when properly tapped, will empower Nigerians, especially processors more and create wealth from waste as it is done in the case of processing cassava peel into cassava cake and subsequently, animal feeds.
The Permanent Secretary, Benue State Ministry of Agriculture, Mr Clement Tondo, who was represented by Director of Agriculture Services in the Ministry, Mr Thomas Unongo, stated that the state is ready to partner with Synergos in all her activities in empowering the citizens.
He said Benue is proud of Synergos for taking agriculture to higher heights in the state in the past two years.
In his presentation titled "The Growth Enhancement Scheme (GES): Benefits to Farmers," GES Desk Officer, Federal Ministry of Agriculture, Mr Felix Ali, stated that their concern is in transforming agriculture in the country.
Ali, who noted that the government wants to help people create wealth from waste, frowned at the spate at which so much has been spent in importing food into the country, whereas the country is blessed with many agricultural opportunities waiting to be tapped.
In another presentation by Coordinator ILEAD Benue State, Mr George Songu, titled "Building a Strong Global Brand in a Global Village," he outlined that branding is vital in the promotion of products and services.
He said it is worth making everything one does, though local, to have a global appeal, adding that brand sells a product and services greatly so there is need to build a very strong distinct brand.
Stressing further, Songu noted that the social media aids in projecting products and services as it provides a platform to sell brands with only a click.
"It costs more using traditional media than the social media," he added.
Also commenting during the course of the meeting, General Managing Director ,Oracle Business Limited, Mr Chris Omiyi, stressed that the company has already keyed into cassava farming and the by products produced from it.
He charged others to key into it, noting that cassava peel feeds administered to their cattle on ranches has shown more prospects by being cheap and more nutritious than open grazing which will ultimately bring to the fore the need to stop open grazing of cattle.
Synergos, which organised the event, is a driver of the Bill and Melinda Gates Foundation funded State Partnership for Agriculture (SPA) project which has intervention in Benue, Kaduna and Kogi states in the area of cassava and rice production in partnership with the Federal Ministry of Agriculture and Rural Development.
They have been using systems-change approach to re-orient and strengthen key state actors involved in the transformation of the agricultural system. As Nigerian states are the vehicle in agriculture, their alignment with the policy framework and resources of the Federal Government is critical to shift from subsistence and survival farming to the business of agriculture.
By Damian Daga