The Agri Carbon Days, a flagship event focused on carbon emissions reduction in the agro-industrial sector and carbon sequestration through agriculture, reportedly experienced some success during its occurrence from May 24 to 25, 2023, in Rabat, Morocco.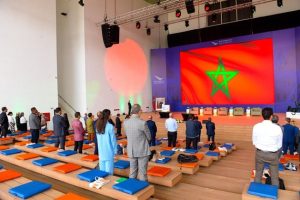 Organised by the Mohammed VI Polytechnic University (UM6P) through its AgriTech Centre of Excellence, in partnership with the International Labour Organiaation (ILO) through the ProAgro Morocco project, the gathering brought together a panel of experts and key stakeholders from around the world.
Over 200 participants, including 32 renowned international speakers, honoured the event with their presence and shared their expertise and experiences in greenhouse gas emissions reduction in the agricultural industry.
Furthermore, five innovative startups of the Farming Innovation Programme – Carbon Farming Edition showcased their novel solutions for reducing the carbon footprint. In addition to this, 20 participants from the first cohort of the executive certificate on decarbonising the Agro-industry and carbon sequestration through agriculture were also present, testifying to the growing commitment towards sustainable and climate-friendly agricultural practices.
During the prestigious international symposium on Agribusiness Decarbonisation and Carbon Sequestration through Agriculture, participants had the privilege of exchanging ideas on the challenges and opportunities inherent in reducing greenhouse gas emissions in the agricultural industry. Renowned researchers presented their latest advancements in emerging technologies aimed at promoting low-carbon food production and facilitating carbon sequestration in agricultural soils. Additionally, distinguished speakers addressed crucial policies and strategies to support the adoption of sustainable agricultural practices, thereby contributing to the ambitious goal of carbon neutrality.
"We are proud of the enthusiasm surrounding this second edition of the Agri Carbon Days. An enthusiasm among national actors in agriculture and AgriBusiness, but above all, there is enthusiasm and keen interest among a wide community of renowned scientists and experts who have been attracted by this exceptional Moroccan mobilisation for Agro-industry decarbonisation and carbon farming. The AgriTech Centre of Excellence at UM6P is pleased to play the role of the catalyst and supporter in this mobilisation towards a decarbonised future for the Moroccan Agro-industry," said Faissal Sehbahoui, Director of the AgriTech Centre of Excellence.
The event provided an invaluable platform for exchange and dialogue, allowing participants to share their expertise, experiences, and cutting-edge research on Agro-industry decarbonisation and carbon sequestration through agriculture. The topics addressed covered a wide range of crucial subjects, such as greenhouse gas emission reduction policies, Agro-industry decarbonisation, carbon economy and finance applied to this promising sector, as well as pivotal scientific and technological breakthroughs that will shape its future.
"The Agri Carbon Days also provide an opportunity to discuss regulatory developments and tariff barriers. We are witnessing the emergence of new regulations and taxes in certain export markets. I am particularly referring to the European market and its new Green Deal, which aims, among other things, to promote the marketing of the greenest possible products within its market. Therefore, greening production also means being more competitive in external markets by minimising tariff and non-tariff barriers imposed by importers," said Gilles Cols of the International Labour Organisation.
The Agri Carbon Days also provided an opportunity to showcase inspiring testimonials from pioneering Agro-industrial companies on the path of decarbonisation, thereby illuminating the way towards a more climate-resilient Agro-industry. Additionally, the presentation of the Farming Innovation Edition Carbon Farming programme generated remarkable enthusiasm, highlighting startups and innovative initiatives that actively contribute to the decarbonisation of the Agro-industry and carbon sequestration through cutting-edge agricultural practices.
The Agri Carbon Days marked a major milestone in mobilising stakeholders within the Moroccan Agro-industrial ecosystem, bringing them together around a common cause: the transition towards a more sustainable agriculture, firmly committed to combating climate change. The promising outcomes derived from these in-depth exchanges foreshadow a greener future for Morocco's Agro-industrial sector, combining economic efficiency, environmental preservation, and social responsibility.