The United Cities and Local Governments of Africa (UCLG Africa) has called on governments on the continent, development partners, civil society groups, and local authorities to adopt a bottom-up approach in their search for a solution to address the continent's development crisis.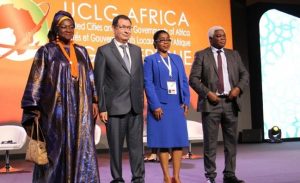 Africa is currently bedeviled by a huge infrastructural deficit in the provision of good roads, access to energy, clean water, transportation, waste management, and internet connectivity across the region.
With over 50 percent of its population mostly young people anticipated to live in urban settlements by the year 2050, it is needless to mention the burden this rapid human growth is going to have on the already stretched and obsolete infrastructure.
How to handle the problem of distributing resources, urban planning, and dealing with climate change, conflict, as well as Covid-19 remains a cardinal question that Africa as a continent must answer and find a solution to its developmental mishap.
The solution to this problem, according to Jean Pierre Mbassi, the secretary-general of UCLG Africa, is reflected in the way Africa's intermediary cities are treated.
Addressing a multitude of participants who gathered to celebrate the 9th Africities summit that is currently ongoing in Kisumu, Kenya, he pointed out that most of the challenges facing Africa's progress are largely integrated into the national policy frameworks of many countries on the continent.
Citing the theme of this year's event: "The Role of Intermediary Cities of Africa in the Implementation of Agenda 2030 of the United Nations and the Africa Union Agenda 2063" to explain his point, he said that the fight against climate change begins and ends in cities and territories, which is where the battle will either be won or lost.
Although, UCLG Africa is very clear on its position on how this monster can be nipped in the bud, it believes that the climate change battle will be either lost or won in cities and territories and is going to be determined by how the continent is able to adopt a bottom-up approach and localising its development agenda from a Nationally Determined Contributions (NDCs) into a Locally Determined Contributions (LDCs) perspective.
"Intermediary cities are your key target of governance. Treat them well and they will treat African citizens well, treat them bad and we will fail in our progress," the UCLG Africa secretary-general submitted.
With the requirement of over $170 billion per annum to implement Africa's infrastructural plan and a huge deficit of about $110 billion, there is no doubt that the continent needs to rethink and redesign its development blueprint.
The new development draft must provide solutions on how to close the existing gap and explain where to source finance to achieve the UN 2030 plan and the Africa Union 2063 agenda.
Raila Odinga, who is the African Union High Representative for Infrastructure and Development, is calling for the establishment of an African Infrastructure Fund to raise money to bridge the deficit and build the required infrastructure to transform the continent.
This can be achieved by working with several institutions to establish this fund. Africa has several idle capitals such as sovereign wealth, pension, and insurance funds that can be used to its benefit.
"So, we are working towards tapping these resources to enable Africa to fund its own development," Odinga disclosed.
Without any doubt, Africa needs money to tackle its infrastructural challenges and be able to meet up with its development demands; however, there is also a need for accurate data to back up strategic infrastructure and implementation of projects.
The essence of this data is to ensure that interventions are based on facts and provide a graphic image of their impacts in terms of growth. These facts must guide the process of selecting the right infrastructure, the one that will have the most effective impact and whose outcomes that will be beneficial to the entire population of the continent.
By Etta Michael Bisong, Kisumu, Kenya