Recognisng the urgency of the wildlife trafficking crisis, airports in Africa have taken up a campaign to curb wildlife trafficking on the continent.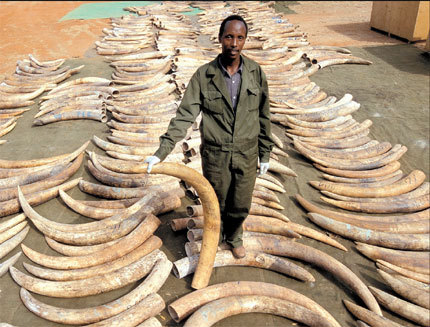 Some 50 participants from these airports attended a workshop hosted by the USAID Reducing Opportunities for Unlawful Transport of Endangered Species (ROUTES) Partnership during the Airports Council International (ACI) Africa Annual General Assembly & Regional Conference and Exhibition in Accra, Ghana in the week ended October 19, 2019.
The workshop, led by ACI, TRAFFIC, and WWF, focused on practical strategies for airports to strengthen protocols and raise awareness to combat wildlife trafficking. During the workshop, participants discussed key gaps, opportunities, and next steps for action and identified mechanisms to increase collaboration and communication among airport employees, stakeholders, and law enforcement.
"Wildlife trafficking poses an immediate threat to Africa's wildlife, threatens regional and local security, and hinders economic development. By raising awareness, strengthening policies, and establishing strong reporting protocols with law enforcement, airport staff across Africa can help increase wildlife seizures and prevent the loss of some of Africa's most iconic species through wildlife trafficking," said TRAFFIC's Michelle Owen, ROUTES Lead.
ROUTES also delivered a training at the conference for airport leaders in Africa as part of ACI's Fund for Airports in Developing Nations Programme on airport environment management. The training covered the local and global implications of wildlife trafficking crimes, common wildlife trafficking trade routes, the modes and methods used by traffickers to smuggle wildlife and wildlife products by air transport, and the best way for staff to report suspicious activity to the authorities. Following the training, participants engaged in a roundtable discussion centred around sharing experiences, insights, and resources for addressing wildlife trafficking at airports.
"Traffickers attempting to smuggle wildlife through air transport will potentially come into contact with airport staff at multiple points throughout their journey. Training employees to help serve as additional eyes and ears and to support law enforcement by reporting suspicious activities is one of the most significant steps an airport can take in preventing wildlife trafficking," said Juliana Scavuzzi, Senior Manager of Environment at ACI World.
In the past decade, more than 300 wildlife trafficking instances have occurred in airports in 32 African countries, according to the C4ADS Air Seizure Database within the ROUTES Dashboard. Elephant poaching alone costs local economies in Africa an estimated $25 million per year in lost tourism revenue and in the past 10 years more than 1,000 wildlife protection rangers have lost their lives while on duty.