Africa Climate Week 2023 (ACW) drew to a close on Friday, September 8, 2023, after an action-packed week in Nairobi, Kenya, which seemed to underscore the continent's determination to be a global leader in climate action.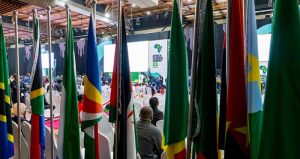 The event brought together more than 10,000 participants from governments, multilateral organisations, the private sector and civil society from across the African continent and the world to discuss and strategise climate solutions.
ACW took place in parallel with the Africa Climate Summit, which saw 20 African Heads of State and Government highlight their countries' commitment to spearhead initiatives in renewable energy, sustainable land use and innovative climate technologies.
"In Africa, we can be a green industrial hub that helps other regions achieve their net-zero strategies by 2050," said President William Ruto of Kenya. "Unlocking the renewable energy resources that we have in our continent is not only good for Africa, it is good for the rest of the world."
As climate impacts intensify across the continent, ACW emphasised the urgent need for swift and coordinated action to mitigate and adapt to the changing climate. The event featured discussions, workshops and high-level panels showcasing the opportunities for growth and development that abound when innovation and sustainability are applied to tackling the climate emergency.
ACW was the first Regional Climate Week to bring key and mandated regional climate meetings under a single umbrella event, with the aim of fostering efficiency, collaboration, and idea-sharing across various tracks.
Speakers emphasised the vital role of climate finance in unlocking Africa's green energy potential and fostering climate-resilient development, with African leaders advocating for a substantial boost in investments, global financial reforms and greater support for vulnerable countries to address climate challenges effectively.
Throughout the week, young people led conversations on the need for urgent and concerted efforts by all nations to lower emissions and increase climate ambition.
Simon Stiell, UN Climate Change Executive Secretary, said: "ACW has identified creative solutions that can attract investment, facilitate technology transfer, build and strengthen capacities and position African nations as leaders in sustainable development and climate action. Going forward, let us push for ambitious outcomes at COP28, where we can turn the outcomes of this summit into a global consensus and, most importantly, into reality."
"Through Africa Climate Week, we have seen the continent's determination to accelerate action on adaptation and finance, and to deliver climate justice that Africa deserves," said Inger Andersen, Executive Director of the UN Environment Programme. "Ahead of COP28, we know this continent comes with a clear voice and a clear commitment to a future where we have a sustainable path to growth."
ACW concluded with a resounding message: Africa is not just a continent facing climate impacts; it is a continent poised to lead the world in climate solutions.
Achim Steiner, Administrator of the UN Development Programme (UNDP), said: "Climate change is a moment to look beyond differences and apply the lens of opportunity including ground-breaking investments in renewable energies as well as adaptation. The continent of Africa, home to world's youngest population, is already on the sharp edge of combining access to electricity with this new pathways of development through decarbonisation.
"Yet there is a pressing need to combine the climate action solutions that are sprouting up across Africa with brand-new sources of finance to ensure that communities everywhere can bolster their climate resilience on a continent that is heating up faster that other parts of the planet; and deliver a range of new opportunities like jobs and livelihoods."
Axel van Trotsenburg, Senior Managing Director of the World Bank, said: "This climate conference – the first by Africa, for Africa – has been long overdue. Africa currently receives about 30 billion a year in climate financing — a third of that from the World Bank — against climate financing needs estimated at $280 billion a year. The public and private sector, multilaterals, development partners all need to do more to help close the climate financing gap. The World Bank is strongly committed to continuing its support to Africa, through analytical work including our Country Climate and Development Reports, as well as technical assistance and financial support."