Experts at the Africa Climate Change conference in Marrakech, Morocco have restated Africa's capacity to feed itself now and in the future without genetically modified organisms.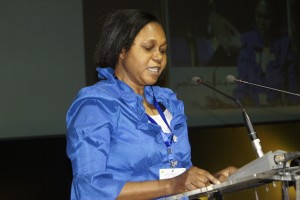 They however warned that it would require increased investment in climate change research, development and innovation to make technology accessible and affordable for farmers, to enhance opportunities for easy access to agricultural finance and insurance, to facilitate trading and access to markets at all levels, and to create an enabling environment for private sector investment in the agricultural value chain.
Mrs. Olushola Olayide, a representative of the Africa Union Commission at the conference, stated that the absence of an AU official position on GMOs does not manifestly translate into an endorsement of the organisms as "the continent has recorded good success stories in local food production and conservation methods in Benin and Malawi and, with these efforts being upscaled currently, Africa will comfortably feed Africa."
For Dr Abdalla Hamdok, the Deputy Executive Secretary of the Economic Commission for Africa (ECA), the GMO issue is "a debatable one as they are problems in addressing biodiversity and loss but its potential to create enhancement in productivity cannot be discountenanced."
Civil society concerns
Mithika Mwenda of the Pan-African Climate Justice Alliance (PACJA), representing over 800 African civil society organisations including  small scale farmers, faith based organisations and indigenous peoples at the Marrakech conference, declared emphatically that Africa can only feed Africa when words are translated into action, put in place mechanisms and frameworks aimed at putting more money into agriculture in line with the Abuja Declaration, and ensure extensive implementation of the CAADP framework as well as integrate climate change adaptation strategies into agriculture.
According to Mwenda, African civil society is concerned about GMOs because the interest of the multinationals promoting them is at variance with the long-term interests of African farmers. "GMOs constitute a threat to the survival of small holder farmers across Africa as it will create more poverty and food insecurity," he said.
FAO warning
The Food and Agriculture Organisation (FAO) of the United Nations recently warned African countries against the use of genetically modified organisms as they are not needed to improve food production and are unsuitable for many countries in Africa.
While issuing the warning, Jose Graziano da Silva, FAO Director General, added, "Our position as FAO is not that we are against GMOs but we are saying we don't need them now to eradicate hunger."
He further expressed concerns about the impact of GMOs on the environment as "we don't know what will happen to areas of production and the crops."  "It is risky for continents whose crops have GMOs; we want to ensure that proper security measures related to environment contamination are taken."
Expensive technology
A report on the conclusions of the 2008 International Assessment of Agriculture Science and Technology (IAASTD) underlined the fact that GM is not a suitable technology for alleviating hunger because it does not benefit small and subsistence farmers, and it is these farmers that provide 70% of the world's food.
The IAASTD report emphasised that agro-ecological approaches were the most appropriate technologies to tackle food security and hunger. Techniques focused on building organic matter in soil to help in drought situations, utilising mixed cropping and rotations, and the use of agro-forestry are showing they can deliver increased yield and greater resilience. These techniques are not reliant upon expensive inputs like fertilisers and pesticides that GMOs rely on, and that small farmers can ill afford.
GMOs are organisms whose genetic material have been altered  using genetic engineering techniques and those modified  include micro-organisms such as bacteria, yeast, insects, plants, fish and mammals.
By Atayi Babs