The African Institute for Development Policy (AFIDEP) is the laureate of the 2023 United Nations Population Award in the institutional category, United Nations announced on Wednesday, July 12, 2023, in New York, US.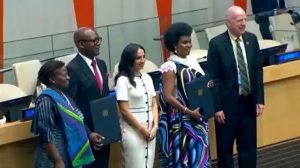 Making the announcement, Ms. Rawa Zoghbi, Permanent Mission of Lebanon to the United Nations who also is the Chair of the U.N. Selection Committee, said: "AFIDEP's evidence-based approach and collaboration with governments, civil society organisations, and international partners have resulted in impactful programming and positive outcomes in areas such as family planning, maternal health, adolescent sexual and reproductive health, and African population dynamics."
The statement added that the organisation plays a vital role in shaping policies and programmes that promote sustainable population growth in Africa.
The UN Select Committee on Population Award also comprises representatives of nine other UN Member States. The United Nations Department for Economic and Social Affairs serves as the representative of the Secretary-General, United Nations, and UNFPA serves as its secretariat.
"It is with great honour and immense gratitude that I accept the 2023 U.N. Population Award on behalf of the African Institute for Development Policy, AFIDEP. This accolade validates the significance of our work and serves as a catalyst for further growth and progress in our mission towards a better and more prosperous future for all Africans," said Dr Eliya Zulu, Founder and Executive Director, AFIDEP.
Dr Zulu said AFIDEP's success is a collective effort of many. "Through the founding Directors' vision, the Board of Directors' strategic leadership, hardworking staff, resource partners, partnership with UNFPA, other U.N. agencies and non-governmental organizations, and supportive policymakers, AFIDEP triumphed many start-up challenges," he said.
According to Dr. Thomas Munthali, Director General, National Planning Commission, Malawi, AFIDEP has remained one of NPC's leading partners in research and policy analysis and advisory that has informed the formulation and implementation of the Malawi 2063 national vision.
"The quality of their input demonstrated their pedigree in offering solutions to various challenges affecting countries around the globe. Congratulations to team AFIDEP on the Award," he said.
The award has not come as a surprise. AFIDEP has played a significant role in elevating the demographic dividend as an essential development paradigm in Africa, working in collaboration with national governments, regional intergovernmental entities, the African Union, development partners, philanthropies, and civil society to achieve this cross-sectoral collaboration.
The Institute has worked in over 20 African countries on the demographic dividend paradigm and also directly supported 15 African governments in developing Demographic Dividend intelligence to stimulate political traction, leading to ten countries incorporating the D.D. principles in their medium and long-term development strategies, Angola, Botswana, Eswatini, Kenya, Malawi, Namibia, Rwanda, Uganda, Zimbabwe and Zambia.
AFIDEP's support to the African Union contributed to the decision to designate "Harnessing the demographic dividend through investments in youth" as the development theme for Africa in 2017. Twelve of the 23 governments we supported in East and Southern Africa have integrated the demographic dividend framework into their development strategies.
Empowering women and girls, importantly harnessing their skills and talents, is central to the continent's socioeconomic development, consequently realizing the D.D. Women and girls account for half of Africa's population. To this end, AFIDEP has supported policy enactment and programme implementation that increase the girl child's prospects in education and employment, including ending teenage pregnancies and child marriages in Africa.
"Even as we celebrate, we acknowledge that progress is uneven, and most countries are likely to fall short of their human development SDGs by 2030. We, therefore, call on U.N. Member states to ensure that boys and girls stay in school at least up to the secondary level. Governments should increase domestic financing to counter the effects of the debt burden, COVID-19, climate change, and local and global conflicts," said Dr Zulu.
Additionally, AFIDEP congratulates the First Lady of the Republic of Burundi, the 2023 individual category laureate of the 2023 U.N. Population Award.