Moved by the need to combat deforestation and promote environmental conservation, the British American Tobacco Nigeria Foundation (BATNF), in partnership with the Nigerian Conservation Foundation (NCF), has initiated a transformative afforestation and natural resource management initiative to rejuvenate the Ajingi Forest Reserve located in Kano State, Northwest Nigeria.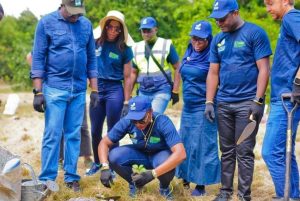 The programme, with the theme "Creating a Greener World for a Sustainable Future", also underscores the goal for a cleaner, more eco-friendly world.
In her remarks, Odiri Erewa-Meggison, Board Director, BATN Foundation, who expressed the project's significance, also emphasised that it extends beyond the mere planting of 5,000 trees.
She highlighted the continuous dedication, education, and community involvement required for the journey toward environmental restoration and sustainability.
According to her, in the past decades, BATNF accomplished a remarkable feat by planting a total of 503,000 trees across Nigeria's diverse geopolitical zones.
"Today, we gather to mark the flag-off of the completion of 5,000 trees already planted in Ajingi, Kano, with a goal of planting 50,000 trees by 2027, continuing our commitment to a greener and more sustainable future.
"We are in a world grappling with the grave challenges of climate change, environmental degradation, and deforestation, which threaten the very ecosystem that sustains us. We recognise that climate change is a global crisis, and we must take local actions to mitigate its adverse effects.
"By breathing new life into the forest, we are not just restoring its beauty but also enhancing local biodiversity and contributing to a more ecologically balanced environment. Each tree we have planted is not just a number; it is our commitment to empowering our rural and farming communities for a sustainable future," she said.
Joseph Onoja, the Director-General, NCF, commended British American Tobacco Nigeria Foundation for the partnership, saying the partnership could not have come at a better time than this when the world is being confronted with the adverse effects of climate change.
He said: "It is our collective responsibility to cultivate a greener world for a sustainable future, and we are committed to doing so whenever the opportunity arises.
"We aim to plant the right trees in the right places at the right time. This partnership between British American Tobacco Nigeria Foundation (BATNF) and NCF symbolises a critical step in addressing the global environmental challenges we face, uniting efforts for the betterment of our planet and the communities it supports."
British American Tobacco Nigeria Foundation, as part of its broader community-based initiatives, supports afforestation, biodiversity conservation, environmental protection, and the prevention of deforestation and habitat fragmentation.
Beyond merely replenishing the forest cover, the planting of these trees also aims to sequester carbon dioxide, a significant contributor to global climate action. The benefits of this endeavour extend beyond carbon capture, as the restored forest will be enhancing biodiversity and promoting ecological equilibrium.
By Ajibola Adedoye