The African Development Bank (AfDB) has earmarked $220 million for various intervention projects in the country.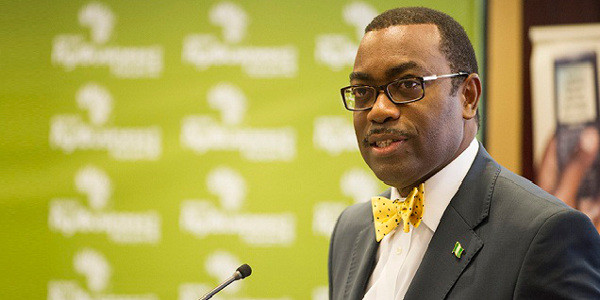 President of AfDB, Dr Akinwumi Adesina, said this at the official launch of Inclusive Basic Service Delivery and Livelihood Empowerment Integrated Programme (IBSIP) in Abuja on Thursday, December 6, 2018.
Adesina was represented by the Senior Director of the bank, Mr Ebrima Faal.
He explained that $20 million would be approved soon by the management of the bank, for its programme designed as "say no to famine" by addressing food insecurity and malnutrition.
He said that $200 million which had been approved by the management would be used for rural electrification projects across the country.
"The Say No to famine will address challenges of food insecurity and malnutrition in conflict affected states of Borno, Adamawa and Yobe with the means to resume agriculture-based and environment friendly livelihoods.
"The project will set the foundations for longer-term resilience building and sustainable economic and social development.
"This will be achieved through the combination of skills development and productive measures supported in the same locations by conditional voucher food support.
"The Nigeria electrification project is countrywide and aimed at delivering energy access to unserved and underserved communities in the country.
"The project will provide electricity to households, small to medium sized enterprises and public institutions at a least cost and timely manner through off and mini grid solutions.
"The project comprises the provision of solar hybrid mini grids for rural economic development, productive appliances and equipment for off grid communities and energising institutions.
"Adamawa state is included as one of the states to benefit in the first phase of the programme," he said.
By Mustapha Sumaila