Break Free from Fossil Fuels actions commenced in Nigeria on Tuesday, 10 May 2016, with a rally at Oil Well 1 in Oloibiri, Nigeria's first oil well drilled in 1956.
It was a gathering of hundreds of community chiefs, youths, women groups, and civil society groups in the Break Free Coalition. Frontline environmental activist, Nnimmo Bassey of the Health of Mother Earth Foundation (HOMEF) led the rallying calls alongside a leader from the neighbouring communities, Chief Napoleon Ofiruma, at the feisty event. A musical performance by BioMagic, a group of environmental activists lead by Akpotu Ziworitin, added verve to the occasion as they sang: "Stop the gas flares, we need fresh air…"
While Bassey clamours for a clean Delta region and for the fossil fuels to be kept underground, Ofiruma pleads that government should diversify the economy and restore the degraded ecosystems so that indigenes can resume fishing and farming activities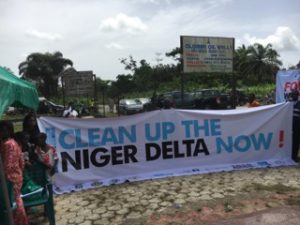 Nnimmo Bassey
As we stand at the very first oil well in Nigeria, we see clearly that when the well runs dry all your hopes also dry up. This first oil well has been named a national monument. This is indeed a monument. This Olibiri Oil Well is a monument to neglect. It is a monument to pollution. It is a monument to destroyed livelihoods and of betrayed hopes. It is a monument to the agents of global warming. It is a monument to fossil colonialism. It is a monumental disappointment. And we are saying, never again!
This oil well demands that we raise our voice and speak out loudly. For the Nigerian economy to be truly diversified, we must break free from the bondage to fossil fuels. For the Nigerian economy to work for Nigerians, it is time to move on from fossil fuels.
Globally, fossil fuels extraction, and use, is the major driver of climate change. Today our weather is unbearably hot. Our waters are so polluted with crude oil that we cannot dive into them to cool our bodies. Some of our rivers and forests even go up in flames.
The water we drink used to be sweet. Today the only sweet thing coming out of our land is so-called sweet crude. It is only sweet to those who do not care about the land, our lives.
I don't need to remind you about oil spills. The evidence is all over the land. Thousands of oil spill locations are crying out to be cleaned. We don't talk about it, but hundreds of barrels of produced water are dumped into our water ways daily in the Niger Delta, poisoning our waters and choking throats instead of quenching thirst.
Oil extraction has poked holes all over the Niger Delta. Coastlines erosion is eating up the lands of our communities and sea level rise will make this worse. Ask our people at Brass. Ask our people at Koluoama. In addition, our land is sinking!
Combine these with the effects of gas flaring and tell me what benefit crude oil has brought to our land, to Nigeria.
We want a clean Niger Delta.
We want Niger Delta to stay clean.
We demand that fossil fuels be kept in the ground.
We insist that we must not wait until the wells run dry.
We cannot have a clean Niger Delta if oil spills continue. We cannot have a clean Niger Delta if pipelines keep getting bombed. We cannot have a clean Niger Delta with broken pipelines and without companies maintaining their facilities. We must all join our hands to make fossil fuels history and make this first oil well a monument to the monumental damage caused by fossil fuels.
What do we want? A clean Niger Delta!
How can this happen? Stop oil spills. Stop gas flares.
What is our demand? Keep the oil in the ground!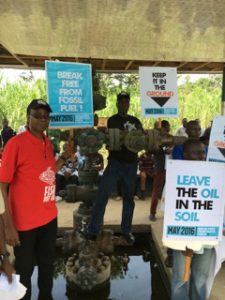 Chief Napoleon Ofiruma
Today is special because we have the opportunity to speak out to Nigerians and to the world. Today we can say that when we welcomed oil drilling on our land 60 years ago we had a lot of hopes and now we can boldly say that our hopes have been dashed. After 60 years what have we got from oil? In fact, our hopes have been betrayed and relegated.
As we stand at the very first oil well to be drilled in the Niger Delta, we ask the world to see our situation. The oil well has been sucked dry and abandoned. As the oil well has been abandoned so have we been abandoned.
We realise that our being abandoned and neglected is not all the story. Oil extraction and use has brought a lot of problems to the Nigeria and the world. Today everywhere is hot. The climate is changing. Life is very tough and unbearable.
Crude oil spillages have destroyed our fishing business. They have also destroyed our farms. We demand that oil companies should stop polluting our land. We demand that our land and creeks should be cleaned up urgently. We demand an end to gas flaring. We are tired of diseases and deaths caused by oil pollution.
Welcome to our land. Look around you and help us tell government that oil has brought nothing to us but destruction and death.
We demand that as government begins to diversify the economy, the only oil business in Nigeria should be the business of cleaning up the oil pollution. That will employ thousands of youths and restore our fisheries and agriculture. We want to return to our fishing business. We want fish and food, not oil.
We join all Nigerians and others in the world to say that our bondage to crude oil is enough. It is time to break free from this bad business. We support your call to leave the oil in the soil and to quench the killing gas flares and the destruction of our flora and fauna.