A global coalition of more than 220 organisations has issued a series of demands to world governments as the United Nations Climate Change Conference (COP24) began on Sunday, December 2, 2018 in Katowice, Poland.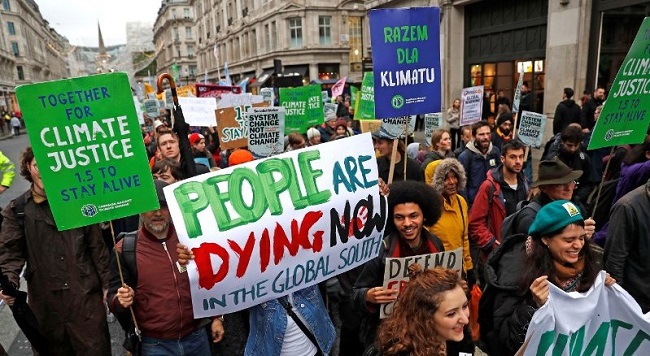 The demands, endorsed by nearly 200,000 people from 128 countries, is expected to be the bar against which progress is measured in Poland. The coalition demands, among others, that governments should:
Keep fossil fuels in the ground;
Reject false solutions that are displacing real, people-first solutions to the climate crisis;
Advance real solutions that are just, feasible, and essential;
Honour climate finance obligations to developing countries;
End corporate interference in and capture of the climate talks; and,
Ensure developed countries honour their "fair shares" for largely fueling this crisis.
In a statement released by Corporate Accountability, Executive Director Patti Lynn called for world governments to look beyond the obstruction of Global North countries and act with urgency to address climate change.
"When the future of humanity undeniably hangs in the balance, we need serious solutions from serious leaders, not dangerous schemes and political tricks aimed to keep Big Polluters polluting," Lynn said.
Friends of the Earth International also on Monday, December 3 launched its "People Power Now: An Energy Manifesto" – 10 demands for a just energy transformation which, it said, provided a pathway to a new, clean energy future for all, that contributes to keeping global temperature rise below 1.5 degrees.
The group said inaction by successive governments at the UN and among national governments has left a narrow and shrinking window for action, warning that there is deep frustration with the endless talking shop where polluters freely influence the debate and rich countries block the radical action needed for fossil fuel phase out in the North and finance for the South.
Dipti Bhatnagar, Climate Justice and Energy Programme Coordinator for Friends of the Earth International, said: "This year was supposed to be a major year for the climate – pledges made in Paris three years ago were to be ratcheted up to meet the need for early and steep emission cuts. Thanks to a weakened Talanoa Dialogue, climate ambitions are severely threatened, in addition to the dismantling of equity and the egregious fact that fossil fuel companies are sponsoring the Conference. We need a just transition away from fossil fuels and dirty energy to a just, clean, peoples' energy system. We need to push for gender justice and for a world free from oppression and inequality."
Deputy Executive Director, Environmental Rights Action/Friends of the Earth Nigeria (ERA/FoEN), Akinbode Oluwafemi, said: "Big Polluters and their allies must not be allowed to meddle to determine the outcomes of the talks. Now is the time for leaders from Africa and nations already feeling the impacts of climate change to kick the industry out and advance real solutions."