A coalition of civil society, labour unions and grassroots mobilisers on Thursday in Ikeja, the capital of Lagos State, formally presented to the public a book titled: "Lagos Water Crisis: Alternative Roadmap for Water Sector", which they describe as the solution to challenges bordering access to water in Lagos.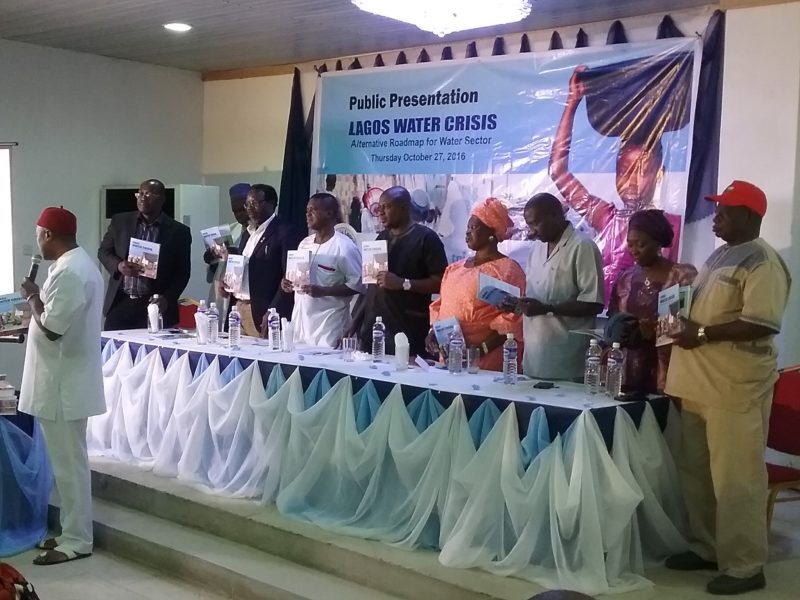 "Lagos Water Crisis: Alternative Roadmap for Water Sector" is being promoted as a workable solution and in apparent opposition to the Public Private Partnership (PPP) water privatisation endeavour, which the state government appears to have endorsed. The Our Water Our Right Coalition, which presented the book, has since 2014 petitioned the state government and mobilised residents to take to the streets to resist the PPP initiative.
According to the Environmental Rights Action/Friends of the Earth Nigeria (ERA/FoEN), the book is presented as a direct response to the state government's claim that there is no solution outside privatisation for the 21 million residents of Lagos, most of whom, says the group, depend on unwholesome sources of water "due to the corruption, lack of transparency and accountability and decay in infrastructure managed by the Lagos State Water Corporation (LSWC)."
The book is a joint effort by ERA/FoEN, Corporate Accountability International, Public Services International (PSI), Public Services International Research Unit (PSIRU) and Transnational Institute (TNI).
"Lagos Water Crisis: Alternative Roadmap for Water Sector" faults the approach of the state government to solving the water emergency, especially the focus of maximisation of profits to the detriment of the human rights perspectives of access to water.
Philip Jakpor, the ERA/FoEN spokesperson, adds: "The book faults the Lagos State Water Masterplan which it says will lead to violations of the human right to water and deny citizens universal access to safe drinking water. The book also pokes the Advisory Agreement between the state and the World Bank which were allegedly conducted in secret, without the active participation of citizens of Lagos and warned of likely unrest if water privatisation is forced on the people.
"It amplifies the Our Water Our Right Coalition belief that PPP is a myth and false solution to the Lagos water crisis. It urges the Lagos State government to build the political will to prioritise water for the people and sustainably invest in the water infrastructure to ensure universal access, create jobs, improve public health and ultimately reinvigorate the Lagos economy.
"Some recommendations put forward are Public-Public-Partnerships (PuPs) and the institution of a water trust.  Recommendations put forward can be implemented by the Lagos State Government and Lagos State Water Corporation over the short and long-term to ensure a functional democratically- governed water system in Lagos."