TotalEnergies and its partner China National Offshore Oil Corporation (CNOOC) have reached a deal with Uganda and Tanzania to invest more than $10 billion in developing crude oil production in East Africa, the French group said on Tuesday, February 1, 2022.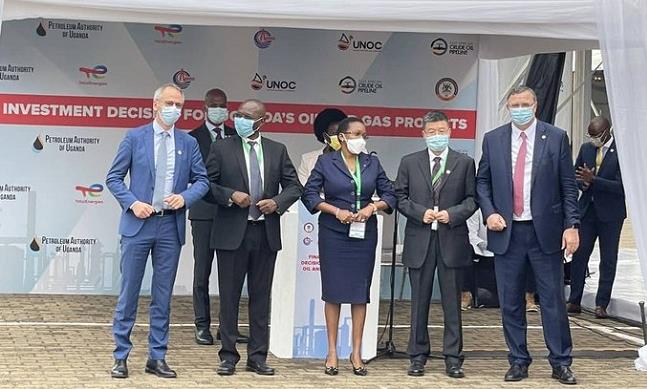 "In the name of the joint venture partners and… TotalEnergies, I declare the final investment decision for the Lake Albert development project," TotalEnergies Chief Executive, Patrick Pouyanne, told a ceremony to announce the plan broadcast on television.
The project will cover the development of oil fields, processing facilities and a pipeline network in Uganda, plus an export pipeline through Tanzania to carry landlocked Uganda's crude to a port on the Indian Ocean.
The pipeline, the East African Crude Oil Pipeline (EACOP), has been a subject of concern to environmental activists, who insist that the construction of the pipeline is harmful to the environment.
The activists stated that the 1443-km crude oil pipeline from Houma in Uganda to Tanga in Tanzania has already displaced thousands and threatens the water resources, and livelihoods of millions of people in the Lake Victoria basin, as well as wildlife.
They claimed that, despite a Final Investment Decision (FID) on EACOP and associated projects reached by TotalEnergies and CNOOC, there is still a long way to go for the project to be realised, as partners are yet to reach financial close – which refers to execution and delivery of financing and other agreements related to the project.
Owing to the continuous opposition of the pipeline and associated projects by local communities in Uganda and Tanzania and pressure from climate and human rights activists and organisations in both Uganda and Tanzania, 11 banks have in the past confirmed that they would not finance EACOP, while three insurance companies, the African Development Bank and the UK's Export Credit Agency have done the same.
Whether or not the project goes ahead, will largely depend on the ability to reach financial close and raise the $3.5 – 5 billion for EACOP and an estimate of between $15 to $20 billion that needs to be invested in Uganda before they can start oil production.
Landry Ninteretse, 350Africa.org Regional Director, said: "Signing the FID is far to be a definitive step toward the operationalisation of the controversial project. So far, people's power and increased pressure exerted on banks behind the EACOP have resulted in a good number of financial institutions distancing themselves from it. Together, we can further pressure the reluctant ones, stop this fossil finance flowing into the region and expose TotalEnergies, a company which has been previously associated with opaque contracts, lack of accountability and violation of basic rights of grassroots communities across Africa and beyond."
Omar Elmawi, the Coordinator of #StopEACOP, said: "There is still hope to avert this pipeline that threatens the social, environmental, cultural, health, livelihood, climate and economic impacts to both Tanzania and Uganda and its citizens while most, if not all, the economic benefits find their way to Total Energies and CNOOC."
Nakabuye Hilda, Fridays For Future Uganda, stated: "The EACOP project poses grave risks to the world's climate. In my home village, people are already displaced, their incomes and livelihoods affected, unacceptable risks to water resources, biodiversity and natural habitats. At a time where climate catastrophes are worsening, unlocking a new source of carbon emissions that will either prove financially unviable or produce unacceptable climate harm puts millions of lives at stake and is a mockery for the existence of generations to come."
Ryan Brightwell, BankTrack, stated: "Despite the show of progress with today's Final Investment Decision, Total and CNOOC are staying quiet on the crucial question of where the money will come from for their incredibly risky pipeline plans. Eight of Total's biggest 15 bankers have already said 'no' to the EACOP pipeline. With the Ugandan government cracking down on dissent, arresting critics and attempting to shut down groups working peacefully to support oil-affected communities, not to mention huge risks to communities, nature, water and the climate, no wonder the project is struggling to find financiers unscrupulous and reckless enough to back it."
Uganda discovered crude oil reserves near its border with the Democratic Republic of Congo in 2006, but production has been repeatedly delayed by disagreements between the government and oil firms over tax and development strategy, and a lack of infrastructure.
TotalEnergies said on its Twitter account earlier on Tuesday that the announcement signified a commitment by the oil companies to invest upwards of $10 billion in the project.
"This milestone puts us on the path to first oil in 2025," Minister of Energy and Mineral Development, Ruth Nankabirwa Ssentamu, said in a speech ahead of the signing.
Close to 160,000 jobs are expected to be created during the project's development, Ssentamu said.
At the same event TotalEnergies also signed a memorandum of understanding with Uganda to collaborate on "large scale renewable energy development projects", Energy Ministry Permanent Secretary, Irene Bateebe, said.
Under that agreement TotalEnergies will develop solar, wind, geothermal and other renewable technology power projects with a combined installed electricity output capacity of 1 gigawatt by 2030. Uganda currently has generating capacity of about 1.2 GW. Government geologists estimate Uganda's gross reserves at 6 billion barrels, while recoverable oil is seen at 1.4 billion barrels.