The Sustainable Environment Vanguard, an advocacy group on community tree planting for greener and sustainable environment, has donated over 20 seedlings in Minna, Niger State.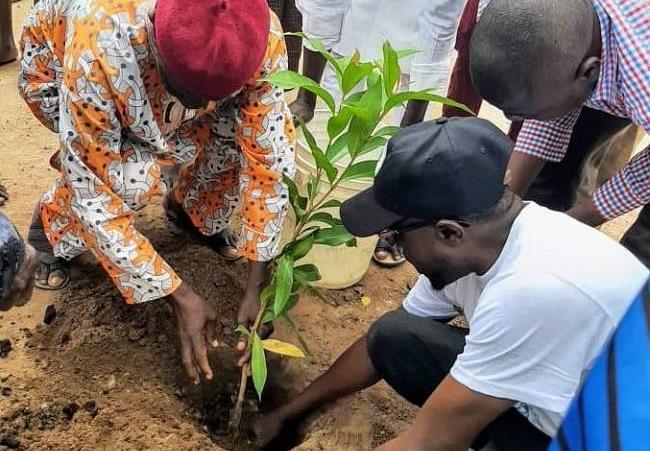 Its founder, Mr Muhammad Dakpanchi, said on Tuesday, August 23, 2022, in Abuja that the seedlings when nurtured would reduce deforestation and effects of climate change.
He regretted that people keep engaging in activities that encourage deforestation without thinking of how negatively it was affecting them.
Contributing his quota towards planting of seedlings as a National Youth Service Corps (NYSC) member, in 2017 in Jigawa State, Dakpanchi said he needed to replicate such in his environment.
"During my NYSC, I was privileged to be in the Environmental and Sanitation Group when serving in Jigawa and, during that time, I headed a project called Plant a Tree (PAT).
"After my service year, I felt I can do more in my own state and since then I have been engaging with several community and religious leaders, youth groups especially in Niger state.
"For this year, I have donated over 20 seedlings to individuals, communities on self-sponsorship.
"In areas like Lagun, Mokwa and other areas, there is the indiscriminate habit of cutting down trees leading to a serious deforestation in those areas,'' he said.
He, however, said he had printed stickers for commercial vehicles, houses and creating the awareness on the need to stop the indiscriminate felling of trees.
According to him, if I can access more funds, it will enable me to do more because most times when I donate seedlings for planting, the community or individuals want you to pay to nurture them.
"People will keep asking if I have money to pay them, but I have devised a means of looking out for passionate people to look after the seedlings for nurturing anywhere I donated.
"If I have the fund, I will provide the seedling and the protection as well, because it is about protection, nurturing the trees to grow,'' he said.
On a broader spectrum, Dakpanchi said that space technology can be deployed to enhance afforestation initiative.
"To address issues of deforestation, we can use a space technology-based approach using satellite images to analyse areas that have been deforested over some years.
"We can also do a mapping of potential open spaces that are suitable for reforestation and afforestation,'' he said.
Dakpanchi underlined the need for a law to check deforestation in order to combat the effects of climate change.
According to him, establishing a policy on deforestation would create the sense of responsibility in people.
He said that human activities like felling of trees, erecting of buildings and other social activities are contributing heavily to climate change.
He further said that humans always bear the brunt of the effects of climate change, hence the need for government to address their causes.
"We notice that there is no adequate monitoring on felling of trees, most community people see others who engage in tree cutting but when they offer money, they allow it.
"There should be proper law to punish indiscriminate felling of trees, if you create a proper law, people will know that what they are doing is a crime.
"The National Assembly has that responsibility,'' Dakpanchi said.
He added that according to global standard, the felling of one tree should amounts to replacing it with another three, adding that Nigeria should key into such practice.
The environmentalist also said that awareness on a larger scale should be encouraged because lots of people are ignorantly engaging in activities that trigger climate change.
According to him, there is need for serious community engagement because rural dwellers see these trees as source of income and asking them to stop will be difficult.
"Government can intervene by encouraging economic tree plantings; people can be rewarded for planting certain kinds of trees, in such way, government will benefit from the idea.
"Trees like shea butter, cashew have been cut down and they have serious benefits.
"If government can key in and provide seedlings of these economic trees, ask people to plant and get money out of it, it will be a better way for them to do the right thing,'' he said.
SEV is an advocacy group that encourages community tree planting for greener and sustainable environment, as well as encouraging people to plant more trees and combat climate change and deforestation.
By Ijeoma Olorunfemi