The State Coordinator, National Youth Service Corps (NYSC) in Abia State, Mrs Bona Fasakin, has appealed to Gov. Okezie Ikpeazu to help tackle the devastating erosion currently ravaging the camp.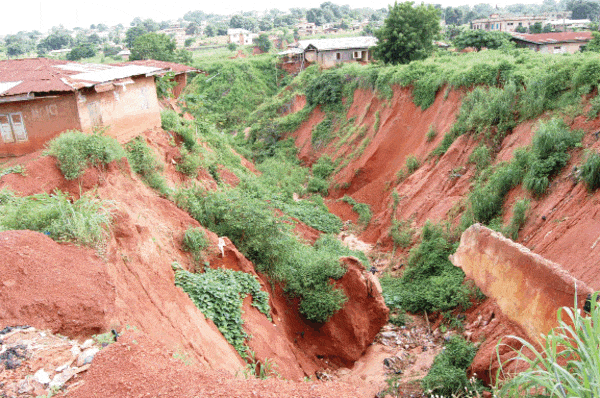 Fasakin made the appeal on Wednesday, December 18, 2019 during the closing ceremony and terminal parade of the Batch 'C' Stream II corps members at the NYSC Orientation Camp, Umunna, Bende Local Government Area.
She said that the erosion menace at the permanent camp had been a source of worry for some time now.
"I wish to thank the Abia State Government under the leadership of Gov. Okezie Ikpeazu for his support to the NYSC scheme in the state.
"However, sir, the issue of erosion has been a teething problem which needs urgent attention of the government to avoid serious unforeseen circumstances in the camp," she said.
Fasakin said that a total of 1,072 corps members successfully participated in the three-week orientation course.
She urged the corps members to put into practice all the trainings they had acquired during the induction course.
The governor on his part urged the corps members not to engage in anything that would tarnish the image of the laudable scheme.
Ikpeazu, who was represented by his Deputy, Dr Ude Chukwu, urged the corps members to uphold the legacies which the initiator and their predecessors had toiled to preserve.
"As ambassadors of the scheme, you have become the mirror through which the people will access the continued relevance of the scheme.
"As you proceed to your places of primary assignments, you should purge yourselves of pre-conceived negative ideas and develop the spirit of open mindedness to enable good ideas to come into you," he said.
The NYSC gave awards to deserving corps members and officials to appreciate their commitment and contributions that made the orientation a success.
By Leonard Okachie