Animal by-product and waste from abattoirs in Gombe State is creating income for youths and entrepreneurs as demand for the commodity heightens from across the country, investigations have indicated.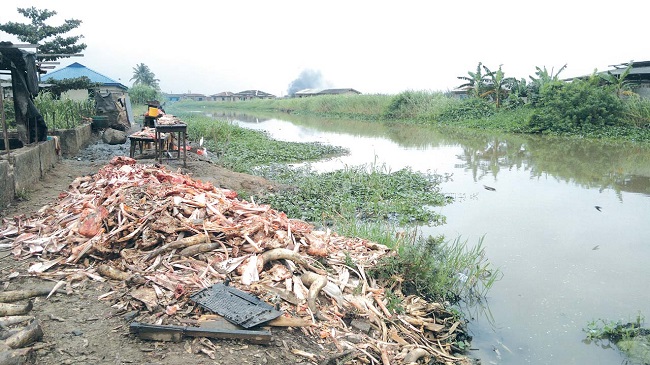 The beneficiaries indicated this in separate interviews in Gombe, the state capital, on Thursday, April 29, 2021.
Mr Gali Abdullahi, a bone seller from the Gombe abattoir, said the business was lucrative for him as he had been in it for the past 22 years and the demand for the commodity was always high.
Abdullahi explained that all he needed do was to burn the bones and crush them before bagging them for supply to his various customers across the country.
He identified agro-allied companies as his biggest customers and those into animal feeds production, explaining that they needed the bones as a major ingredient for animal feeds production.
"Bone meal is an important ingredient in animal feeds. Bone meal is the finely grounded and powdered bone of slaughtered animals which is used as mineral supplement for animals.''
According to him, the demand for his commodity comes from Lagos, Oyo, Plateau and Kaduna states, where most of the companies that process the commodity are located.
He said that a truckload of the bones, containing about 200 bags of the commodity, was being sold for between N2 million and N2.3 million.
Abdullahi said he buys a tonne of the commodity for N50,000 at the abattoir and "I sell to companies for between N80,000 and N100,000 depending on the state and distance.''
"In Lagos and Oyo, we sell to companies for prices ranging from N90,000 upwards. Transportation of the commodity is high, for example, from Gombe here to Jos, transportation costs me N150,000.''
He said that the business had benefitted him and helped him to cater for his household over the years, adding that he usually made between N150,000 and N200,000 per trip.
He also said that he also operated the same business in Bauchi, Adamawa and Taraba states.
Abdullahi stated that the business was impacting greatly on youths in the community as he had engaged some of them and they were realising daily incomes for themselves and their families.
Malam Salisu Aliyu, who deals on animal dung from the abbatoir, said the business was lucrative as many farmers had begun preparing for farming activities in the state.
Aliyu said he sells a bag of animal dung for N1,000 and "we get about 20 bags of animal dung per day and sometimes we get 30 bags or in some cases 10 bags".
He explained that most of his customers were from Kaduna and Plateau states, stressing that the business of animal waste "is a lucrative one that has engaged several youths".
Aliyu stated that the blood of animals slaughtered at the facility is also processed, dried and sold to companies who produce animal feeds in other states.
He added that it takes a week to process and dry the blood and N140,000 income.
Aliyu called on the government to assist them with necessary tools to process their commodity in a healthy environment so as to safeguard the health of labourers as well as ensure that the commodity was hygienic.
A labourer, Sani Mohammed, who loads the truck with the commodity, said he works for four hours daily and he had been in the business for over 30 years.
"We, in our group, load at least 100 bags every day and we are 10. We make between N3,000 and N4,000 as income per person on daily basis and this is really helping us."
On his part, Malam Abdulmalik Saidu, the chairman of the labourers at the abattoir, said the business of bone and other wastes had helped in engaging youths from the streets.
Saidu said they had over 300 youths working and earning daily income, adding that "most of these youths had nothing doing before but today they are working for their money".
He appealed to the state government to help set up an animal waste processing company that would refine the commodities better and employ more youths.
By Peter Uwumarogie