The African Clean-Up Initiative (ACI), in collaboration with Coca-Cola Nigeria Ltd., has assisted 35 less-privileged parents of Isrina School, Ajegunle, Lagos, in paying fees through a plastic waste recycling scheme.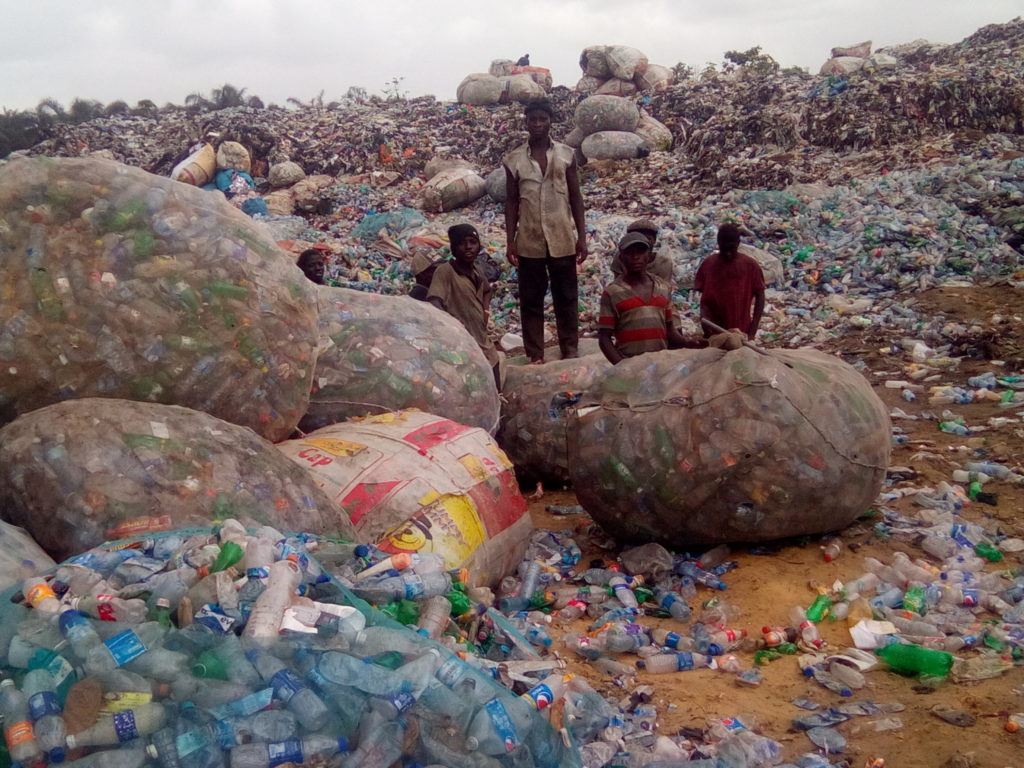 Chief Executive Officer of ACI, Mr Alexander Akhigbe, made this known during the inauguration of "RecyclesPay" in Isrina School, Ajegunle, Lagos on Friday, February 7, 2020.
RecyclesPay, an educational project by African Clean-Up Initiative, encourages parents to pay the school fees of their children with recyclables
Akhigbe said the project was created to help less privileged parents that wanted their children to be educated and achieve their dreams by partnering with Coca-Cola, RecyclesPay and other organisations.
He said the project was in partnership with recyclers, saying that ACI "is a non-governmental organisation (NGO) that collects bottles from parents and handover to recyclers who process and give value to the participants''.
"We have about 10 schools that keyed into the initiative in Lagos but presently we have extended the project to Ogun and Oyo States with the support of Coca-Cola Nigeria Ltd.
"An initiative like this makes it easy for one to recover your bottles from the environment and it's also a way to ensure that no child goes out of school any longer.
"If they don't have money to pay school fees, they can pick up pet bottles and earn money to pay school fees of their children without begging," Akhigbe said.
He said that part of the initiative was to stop bottles finding their ways into the ocean and the project would go a long way in cleaning the society.
Public Affairs, Communication and Sustainability Manager, Mrs Amaka Onyemelukwe, said she was representing Coca-Cola Foundation which sponsored the programme, saying that the Foundation partnered to cover social gaps that existed in the society.
"Coca-Cola wants to invest and upscale in the recycling initiative of ACI.
"We intend to take it to more schools across the country as well as communities; so that at the end of the day, less privileged children are kept in schools and our society is cleaner.
"The initiative will also help more people to be educated on proper waste management and separate their plastic waste; and at the end of the day, we have a cleaner society.
"Rather than living the waste of used pet bottles in the environment and causing a menace, we can comfortably convert them into wealth and will be valuable to the society.
"Not necessarily to pay school fees but it can form a new revenue stream for everyone.
"We are calling on corporate organisations to key into the project by sorting their plastic waste being generated in the office to ACI," Onyemelukwe said.
She said that ACI was bridging the gap between the people that generated the waste and connected them to recyclers who converted the waste to commercial revenue.
Onyemelukwe said that Coca-Cola Nigeria Ltd., was also providing equipment and the support needed to convert the plastic waste into reusable or other products that would be sold to generate revenue.
She said that in the long run, the whole value chain would be economically viable, saying that a fund was set aside by Coca-Cola for parents who could not meet up with their children's school fees after engaging in the recycling exercise.
In his presentation, Education Secretary of Ajeromi-Ifelodun Local Government Area, Mr Solomon Aboluwadi, commended the efforts of ACI and other corporate organisations like Coca-Cola that were complementing government's effort in ensuring that all children were educated.
Aboluwadi said he would extend the initiative to the Lagos State Government to key into it and to help less privileged parents to achieve their dreams of better education for their children.
The Team Leader, Wecycles Nig. Ltd, Mr Morgan Samson, said the company would continue to put in its best to ensure such a programme like RecyclesPay continues.
He said that if everyone was picking up pet bottles, plastic, bottles and other recyclable materials, the environment would be cleaner and free from unwanted diseases.
Mrs Patience Onwuka, who represented the parents, commended the support rendered by Coca-Cola through ACI which had enabled her to retain her three children in Isrina School.
Onwuka said she had brought many less privileged parents to benefit from the initiative.
In his keynotes address, the Founder of Isrina School, Mr Israel Amuzie, appreciated Coca-Cola Nigeria Ltd. and ACI for supporting the parents in educating their children.
Amuzie said that the project (RecyclesPay) began in the school in June 2019, saying that the school initially had 80 pupils but now had over 100 pupils.
He noted that the authorities of the school are happy about the support which would motivate teachers as well as the pupils to study with relevant materials.
By Aisha Cole