The issue of migration, with emphasis on irregular migration, took a place on the front burner of government and other actors in Nigeria with many activities campaigning and sensitising Nigerians on the ills of irregular migration among other issues of trafficking in persons and smuggling of migrants.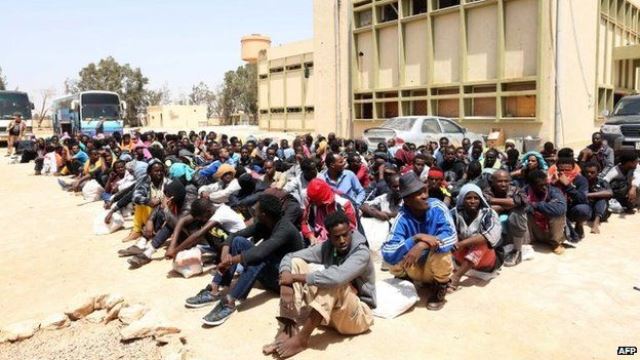 It is regrettable that many Africans, especially Nigerians spurred by economic desperation and sometimes limited personal drive, embark on suicide missions in the bid to migrate towards the northern hemisphere in search of opportunities that may have since disappeared in those societies. While only a small fraction eventually reach their destinations where they face disappointment and frustration, majority of them usually perish on the way.
More so, many who make it to Europe or the Middle East are usually forced into prostitution, used as mercenaries, deployed as household servants, factory workers, drug couriers and even as organ donors. And they would be beaten, starved and subjected to other forms of torture if they try to resist.
The height of the issue of irregular migration in the country came to the fore when many Nigerians were reportedly sold for $400 in Libya in what could be termed modern day slavery. When the news broke on CNN in November where the news channel aired a footage that appeared to show men being auctioned as farm hands after being smuggled across the Sahara. It looked like fiction but it was real and got many, for instance the Nigerian government, concerned and it made efforts to address the matter by repatriating Nigerians trapped in Libya in order to forestall any further in-human treatment being meted to her citizens.
So to say, President Muhammadu Buhari while addressing Nigerians in the Diaspora in Abidjan at this year's EU-AU Summit promised that his government would reduce the number of Nigerians heading for Europe illegally through the Sahara Desert and the Mediterranean Sea by providing basic social amenities such as education, healthcare, and food security in the country.
Enters the need to ponder over the conditions that are purported to create the desperation for Nigerians to leave the country for so-called greener pastures. It is an open secret that, currently, as it has even been in the recent past, many are not only poor but cannot find jobs in Nigeria with people living by less than $1 per day. Companies and many businesses are closing shop majorly due to lack of electricity which increases the cost of running the set-ups. In the face of these challenges, it is perceived that the young population constantly resort to embarking on the perilous journey to Europe in search of the proverbial Golden Fleece.
Furthermore, this has given rise to some criminal minds recruiting from villages and towns, young girls with the promise of securing for them good jobs abroad only to turn them to prostitutes. Inadvertently, indications from several statistics indicate that human trafficking has become one of the biggest money making businesses after drug trafficking.
Sadly, Nigeria has become a transit route for this illegal trade but also a source as well as a destination with children and young adults, especially of the womenfolk, now becoming merchandise for what has become a cross-border crime.
The death of 26 Nigerian women at sea in the Mediterranean on November 4, 2017 due to drowning after a rubber boat carrying 64 sank was another shock that further exposed the ills of irregular migration.
To this end, the Deputy Head of European Union (EU) Delegation in Nigeria, Mr Richard Young, repeatedly expressed concerns over the increasing number of irregular migrants from Nigeria to Europe. In this regard, he urged Nigeria to grow its economy and tackle the challenge of poverty warning that if the immigration issue was not addressed, it might have long term impact on the EU-Nigeria relations.
However, the biggest challenge is a mind-set issue as there are many young men and women who believe they can only make it abroad and will do anything to travel outside the shores of the country. Therefore, apart from remaking the socio-economic structures of our country, that is also an issue the authorities must deal with. But the first task is to provide opportunities at home for our teeming population of young people.
It is worthy of note that the occasion of International Migrants Day on December 18, got the attention of the African Development Bank (AfDB) which called on African countries to reconstruct rural areas from zones of economic misery to zones of economic prosperity, stating that it will in turn expand economic opportunities for African youths, leading to improvements in their lives, thereby stemming migration.
According to Akinwumi Adesina, President of the AfDB, the future of Africa's youths does not lie in migration to Europe, but in a prosperous Africa. This is an assertion that gives credence to the move to address the challenges of food insecurity, being critical in addressing the issues of migration on the continent.
Little wonder, taking into account the large and increasing number of migrants in the world, the United Nations General Assembly on December 4, 2000, proclaimed December 18 International Migrants Day. Statistics from the United Nations indicate that more people are on the move than ever before, while each migrant has a unique story to tell about his or her journey.
In another development, the United Nations Office on Drugs and Crime (UNODC) through funding from the European Union (EU) in conjunction with Nigeria Immigration Service (NIS) and other state and non-state stakeholders made concerted joint efforts in addressing the worrisome irregular migration and trafficking in persons in the country.
The project aptly titled: "Promoting Better Management of Migration in Nigeria by Combating and Reducing Irregular Migration" which occurs, inter alia, through Trafficking in Person (TIP) and Smuggling of Migrants (SOM), went a long way in sensitising communities on border areas, training federal agencies' such and NIS officers in line with the concept of better management of migration as well as engaging the media for a more robust dissemination of migration issues.
As maintained by the National Project Officer, UNODC, Mr Sylvester Atere, at a sensitisation meeting with host community at the Seme Border recently, the objectives of the programme include encouraging Nigeria to maximise the potential of migration, considering that the country is opportuned to have a vibrant population with 70 percent within the range of 40 years.
According to Mr Atere, they desire to see people have informed knowledge to make informed decisions and choices that will deter irregular migration and rather encourage regular migration is the delight of UNODC and EU.
So to say, accounts by Nigerian deportees from Libya leaves the public in no doubt of the harrowing experiences they encountered there, having come home with series of challenges ranging from health to financial, it is right to say, the future of the Nigerian youth and the country economy, after all, the youth are the future.
Lanre O. Ikuteyijo's statement in the piece, Illegal Migration and Policy Challenges in Nigeria thus: "Lack of job opportunities, poverty, and corruption force thousands of young Nigerians to leave the country every year in search of better opportunities abroad. Illegal migration out of Nigeria is increasing and is largely facilitated through forgery of passports, visas, false asylum claims, and bogus marriages. The Nigerian government has taken on a leading role in combating the illegal migration of its nationals but financial, legal, and political shortcomings hinder an effective control of the illegal movement," makes a lot of sense.
The only saving grace for the nation may very well be more sensitisation on the ills of irregular migration, as well as the government doing more in developing the country and ultimately curtail the irregular migration of many Nigerians who go in search of greener pastures.
By Damian Daga