The 18th World Water Congress kicked off in Beijing on Monday, September 11, 2023, with the five-day event themed "Water for All: Harmony between Humans and Nature."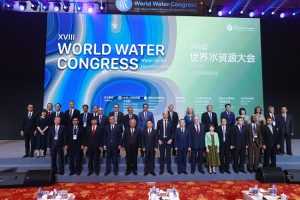 This is the first time for China to hold the World Water Congress.
This year's congress has drawn nearly 600 international delegates from more than 60 countries and regions, over 130 international organisations and water-related institutions, as well as nearly 700 water resource professionals from China.
Speaking at the opening ceremony, Li Guoying, China's Minister of Water Resources, said the world is facing increasingly severe challenges involving water disasters, water resources, water ecology and water environment.
Li said it is of great significance to share ideas on water management, discuss good water management strategies, seek cooperation and development, and jointly contribute solutions to global water governance focusing on the theme of the congress.
The 18th World Water Congress is expected to issue a Beijing Declaration at the closing ceremony.
The World Water Congress is one of the largest congresses connecting water policymakers, researchers and policy practitioners globally.
The International Water Resources Association has successfully held this influential event 17 times in various locations around the world prior to the latest edition in Beijing.