The National Space Research and Development Agency (NARSDA) on Thursday said 15 states in Nigeria may lose two million hectares to flood.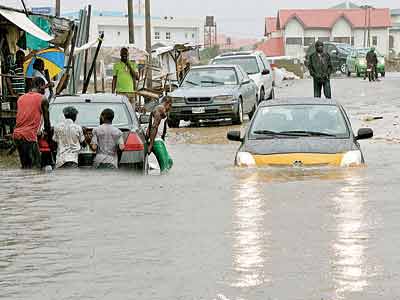 Felix Ale, the Head of Media and Corporate Communications of the agency, disclosed this in a statement in Abuja.
Ale said the areas were identified following a preliminary research and analysis conducted by the agency on flood prone areas.
The statement said: "Based on satellite imagery from Nigeriasat-2, Nigeriasat-X and the shuttle radar topography mission, over two million Hectares of land are at risk of flooding with potential impact on Agriculture and settlements' displacement.
"In the investigation, the Space Agency developed a geospatial information system depicting areas that are at risk of flooding across the nation.
"The affected states, after a critical analysis and scientific research through space applications, are Taraba, Benue, Kogi, Plateau, Nassarawa, Kebbi, Edo, Delta and Anambra.
"Others are Rivers, Bayelsa, Lagos, Sokoto, Kano and Niger.
"Against this background, NASRDA hereby appeals to the affected state governments to urgently put adequate measures in place for the relocation of communities in the flood plain areas in their respective states to high grounds.
"This is in order to mitigate the colossal loss of lives and to prevent a repeat of the 2012 experience.
"NARSDA reassures the general public of its close collaboration with relevant stakeholders for the dissemination of space-based solutions to any flood challenge in the country."
Ale also said the agency had developed a digital terrain model to identify areas of high grounds for potential relocation of affected communities.
The agency recently made public its findings on the recent earth tremor in some parts of Rivers and Bayelsa states.