No fewer than 10 persons died on Friday, March 3, 2023, following an explosion at the Trans Niger Pipeline (TNP) in Rumuekpe, Rivers State.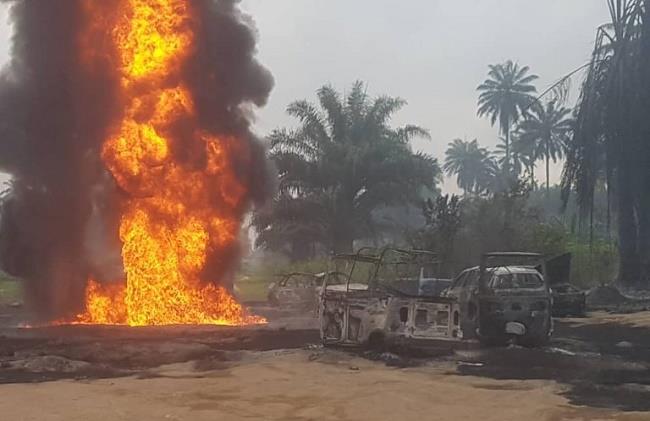 Police Spokesman in Rivers, SP Grace Iringe-Koko, who confirmed the incident in a statement to newsmen, said that rescue efforts were underway.
The TNP, operated by Shell, evacuates crude from its oil fields to the Bonny Crude Oil Export Terminal.
Also confirming the incident, a Shell Spokesman, Michael Adande, said in a statement on Friday that the fire incident occurred at the Rumuekpe-Nkpoku trunk line in Rivers State.
He said that Shell's technical teams were already working with relevant government agencies to put out the fire.
Adande said that a thorough investigation would be undertaken to ascertain the cause of the incident.
Meanwhile, the Rivers Command of the Nigeria Security and Civil Defence Corps (NSCDC) has decried the activities of illegal oil bunkerers, which led to loss of lives in an early morning explosion.
The NSCDC Commandant, Michael Ogar, made the remark when he visited the scene of the explosion in Rumuekpe Community in Emuoha on Friday.
He said that 12 persons died while scooping crude from a burst pipeline linked to an illegal bunkering site when suddenly fire ignited and the resultant explosion killed the victims.
"We totally condemn the defiant behaviour of those engaging in illegal oil bunkering activities in Rumuekpe Community.
"The explosion claimed the lives of 12 persons whose identities are yet unknown, while five cars and four tricycles were burnt to ashes.
"We condole with the families of those who lost their lives in the accident and call on perpetrators to learn a big lesson from this heinous act," he said.
Ogar said the command, together with other security agencies, had in 2021 declared total war on illegal refineries.
He said hundreds of illegal artisanal refineries in the state were destroyed during the operation.
"But it is unfortunate that people have unrepentantly continued to engage in illegal oil bunkering business in the state.
"NSCDC Anti-vandal Squad has repeatedly destroyed a good number of illegal refineries in the area.
"But the unfortunate thing is that once you destroy one illegal refinery they (operators) immediately move to another area and fabricate another.
"So, this unfortunate event should be a warning sign to all unrepentant pipeline vandals and illegal refiners of petroleum products," he further said.
The NSCDC commandant called for sustained collaboration among the security agencies to strengthen the fight against illegal oil bunkering in the state.
He further called on the public to assist the command with useful information to enable it to completely eliminate illegal artisanal refining sites in the state.
The Nigerian Upstream Petroleum Regulatory Commission (NUPRC) says it has begun investigation into the explosion that occurred near a pipeline in Emohua Local Government Area of Rivers.
Its Chief Executive Officer, Mr Gbenga Komolafe, stated on Friday in Abuja that it began the investigation in conjunction with relevant stakeholders and would provide updates appropriately.
According to Komolafe, the investigation is in line with NUPRC's statutory regulatory oversight of upstream operations in the oil and gas industry.
"NUPRC wishes to announce that an explosion leading to a major fire incident near a pipeline in Rumuekpe community in Emohua Local Government Area of Rivers on Thursday night has been reported.
"There are speculations about the level of casualties, but the Commission cannot confirm any until after our investigation,'' Komolafe stated.
He assured that NUPRC would take all necessary measures to ensure that safety and environmental measures were put in place in line with global best practices to safeguard lives and the environment.
By Nathan Nwakamma, Desmond Ejibas and Ella Anokam