I attended a side event on "Youth Resilience and the Green Development" at the ongoing Climate Change COP 18 in Doha, Qatar and was challenged. What was the challenge about? Among the group of panellists were two Nigerian Youth representatives – Rhoda Robinson and Isaiah Owolabi.  I guess you should be happy that two of my fellow country citizens were on the high table, but it was more than being a panellist.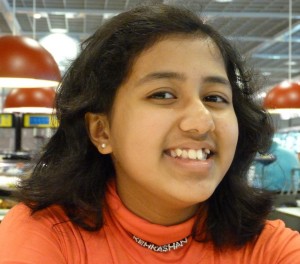 In that same panel was presumably the world's youngest environmental activist – 12-year-old Kehkashan Basu, who described herself as an eco-warrior. She told participants at the side event that her passion for the environment started from when she was eight-years-old and that was when she planted her first tree. She spoke with lot of passion about her vision to change the world she was born into.
According to her, trees are a part of our lives and should rather be allowed to live just as we are also living. The eco-warrior said she has planted over 100 species of trees in five different countries including her native country, the United Arab Emirates (UAE).
I imagined what would become of this young girl at the age of 20 and over, considering how vast on environment and sustainable development issues she appears to be at this tender age. By then, she would probably be addressing world leaders.
It made me to recall my experience last year when I travelled across East and Southern Africa with about 160 young people who were demanding Climate Justice for Africa in relation to change. Among the participants were a large number of them in their teens and early twenties.
Jacqueline Amongin, the youngest Member of Parliament in Uganda believes that it is time for young people in Africa to engage in development work that would positively impact their immediate community.
The 30-year-old Parliamentarian said she did not start as a politician but a young environment activist who worked tirelessly to demand for sustainable process for her community. Jacquline said she initiated the concept of tree planting in every birthday in her community and district. This led to her constituency members asking her to contest for political position to represent them.
Youths cannot cause change without being involved in the change process; no one who can change their future without them working towards the change.
Isaiah Owolabi described the Kehkashan story as a challenge to him and called on young people in Nigeria to start right now to work for change. His work back home in Nigeria, he explained, is about catching them young and engaging them in development work in their immediate communities.
Observes posit that young Nigerians abound in different sectors of the economy especially entertainment and showbiz, but insists that more can be achieved by getting them to engage in social, economic and political initiatives for change.
By Tina Armstrong-Ogonna