Women and youth potters in the Malkohi Internally Displaced Persons (IDPs) camp in Yola, Adamawa State, are being thought how to construct stoves that save wood, reduce smoke and save money for IDP families and members of the Malkohi community.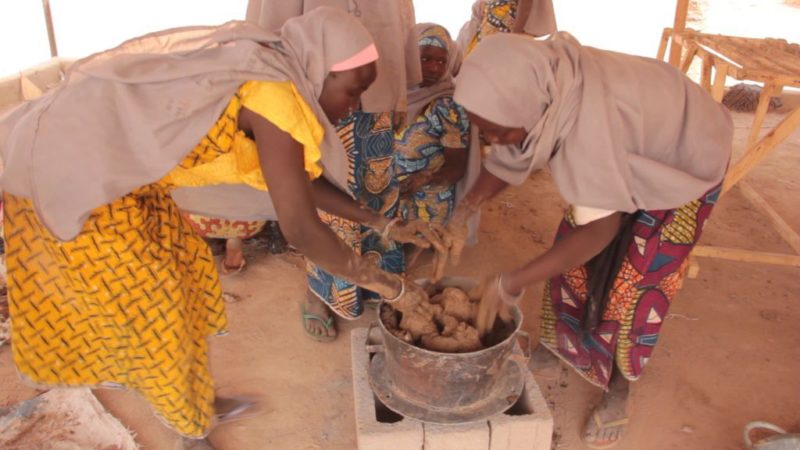 Rather than giving clean cookstoves hand-outs, the Australian High Commission, through the Direct Aid Programme, has opted to build the capacity of the IDPs, some of who are already earning income by selling the fuelwood efficient stoves to the needy. The project is being implemented by the International Centre for Energy, Environment and Development (ICEED).
Maryam Musa, one of the IDPs, said: "Before Boko Haram drove us out of Gwoza in Borno State some of us were potters. Hardly did we know that our skills as potters will help us in our time of need as IDPs. Today, we have learnt to build these cooking stoves and now have a source of income to help our families."
The project has empowered about 50 IDP women and youths in the production of clay-based energy efficient cookstoves, and will be training an additional 50 on sales and distribution of the stoves. The stoves, it was gathered, reduce emissions of harmful gases compared to the traditional three-stone open fire stoves and firewood consumption by about 50%.
The broad objective of the project, according to its promoters, is to strengthen the protection of IDPs and provide them with a sustainable source of livelihood. By building their skills on sustainable energy production, IDPs in Malkohi camp are reportedly making important contributions to combating climate change.
Ewah Eleri, Executive Director of ICEED, stated: "This project seeks to fill a gap in the humanitarian response in Nigeria. Typical IDP camps are characterised by lack of opportunities for employment and meaningful livelihood. This contributes to youth restiveness and tension. Adopting alternative fuels and energy technologies can create jobs for IDPS, especially women and youths. The use of these stoves also reduces the risks of physical and sexual attacks faced by IDP women.
"Access to fuel-efficient stoves, cooking fuel and lighting is usually a minimum standard in humanitarian response. However, while clean cookstoves and lighting are all recognised as lifesaving non-food items provided to IDPs, these minimum requirements are not often met. In Nigeria, there is no formal recognition of this gap in humanitarian support and therefore fuel and energy are not yet an integrated part of the items provided to IDPS."