The long walk to proper hygiene, sanitation and portable water seems to be an endless one in Ekiti State, South West Nigeria, as recent findings have revealed that some communities do not have access to one of the essential needs of man.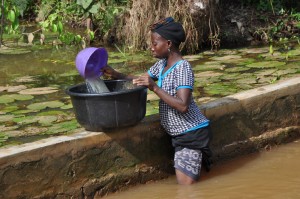 This revelation came to the fore during a fact finding mission embarked upon by some team of journalists to two communities in the state.
The continuous neglect of water and sanitation issues in the state by past and present administrations has brought the state to a pitiable position in the committee of state governments. Many indigenes have suffered serious health challenges, while some communities are at the edge of extinction due to lack of portable water and proper hygiene.
In one of the communities visited in the state, Osan Ekiti, a community in Moba, Local Government Area of the state, the king, His Royal Majesty, Oba (Alhaji) Jimoh Tajudeen Bamidele, complained that water is their major problem.
In his words,''I have tried my best since I inherited this throne five years ago to bring water, but all my efforts is useless, because there was no support from the government. Particularly, the road leading to our community has been destroyed since seven years ago and the water pipe underneath is bad."
He continues, 'We have two water reservoirs, yet none is working. As the saying goes 'water is life' and since we don't have it we resolved to drinking stream water and this had a lot of implications on my people as this has caused epidemics among members of my community."
He further said, "Anytime rain falls, the stream carries a lots of dirt from different places and since we don't have any other place to get water, we have no choice than to drink the water. Also we don't have toilets in this community, but we are making effort towards that. Our people defecate in bush that surround us and that's because we don't have toilets. We need the help of government, CSOs and all sons and daughters of this community to come and support its growth in provision of water and other social amenities."
In another interview with a chief in the same community, High Chief James Adewunmi, the Inurin of Osan Ekiti, he said the only maternity centre in the community has a water provision and that has been the saving grace of the people, adding that by now disease would have wiped out the entire community. He equally noted that despite that, the community needs more water points to serve the people.
Another respondent, Mrs Kemi Adewunmi, a food vendor with four children, complained that ''I always employ the service of a car to get water from Iro which is about five kilometres from Osan in order to cook and I need to bribe or pay some gratification to water sellers if I want it fast."
She further laments that the government has done little or nothing to assist in the area of water and basic hygiene provision and this time she will only vote for a leader who has a track record of making promises and fulfilling them.
One of the youths of the community, Adebayo Sodimu, stated, "We usually go the bush to defecate. We need the help of the government to bring water and sanitation to our community, we are ready to support them."
The Assistant Headmaster of Saint Andrew Catholic Primary School Osan, Mr. Emmanuel Omofemi, in an interview session with journalists said, "There is nothing like water system in this school. Our children go to the bush to defecate and that is about a kilometer from our school, the government should help us with water and latrine."
However, the people of Osi community in Ekiti State have similar tales to tell. In an interview, Chief Mrs. Oluwafeyiranti Akinbode, a woman leader in Osi, lamented the bad state of the water they use for their daily need in the community. She described the Osi Stream, which is the only source of water in the community, as not good for drinking.
She further lamented that the none availability of good roads and schools has equally worsened the living condition in the community as this has increased the poverty level of the indigenes.
She further said that the politicians usually come, promising heaven and earth, but ends up turning into lies and they have made up their mind to vote only for those leaders, that have a track records of fulfilling their promises, particularly the promise of provision of portable water for the community.
She further lamented the pains women in the community go through when going through child labor, as most of the time they find it difficult to get water to use in the process by the nurses.
The Ekiti State Water and Sanitation Law which was passed in 2013 has virtually been put in the dust bin as the state Task Force on Sanitation which was mandated to enforce the pact appears to have gone to sleep as soon as it was created.
Meanwhile, in a recent stakeholders meeting towards improving hygiene in the state some people have expressed worry that not less than 51 percent of the people of the state (about 1.5million) still lack access to drinkable water, while about 68.4 percent are still involved in open defecation.
A water and sanitation expert, Mr. Kole Adegbite, who made this disclosure hinted that government had put the issue of water, sanitation and hygiene in the back burner.
Adegbite said lack of access to drinkable water, poor sanitation and hygiene also accounted for no fewer than 100,000 deaths among children under five years in Nigeria annually.
Apart from that, Adegbite added that Nigeria loses about N45 billion annually due to inadequate sanitation and that the amount was about 1.3 percent of the nation's Gross Domestic Product (GDP).
He called on opinion and community leaders to ensure politicians were made to commit themselves to giving water, sanitation and hygiene issues priority when elected into office.
When contacted, the Special Adviser to the governor of Ekiti state on Public Utilities, Deji Adesua, said that efforts are in progress to develop the water scheme in the state.
According to him, "The structure we met on ground was nothing to write home about and the first thing was to know the state of water in Ekiti State. The water map we have been using in Ekiti State is more than six years old. We found out that most of the facilities are not functioning, some have been vandalised and some are not working due to lack of power. We promise to rectify all this before the second quarter of our administration."
By Wale Elekolusi (elekwal@gmail.com)