People all over the world are on Saturday, May 8, 2021 celebrating the World Migratory Bird Day, a global campaign which aims to raise awareness of migratory birds and the need for international cooperation to conserve them.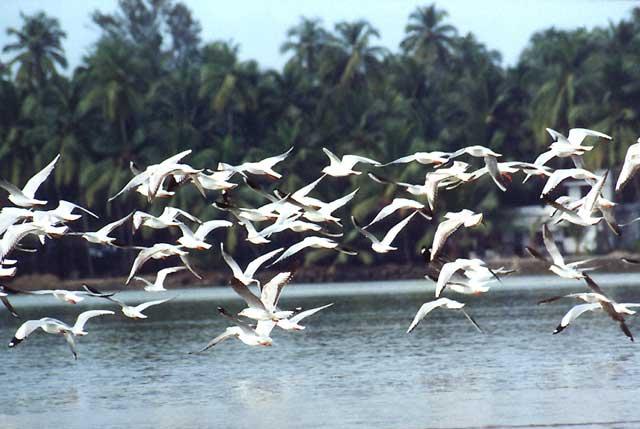 This year's theme "Sing, Fly, Soar – Like A Bird!" focuses on the phenomena of "bird song" and "bird flight" as a way to inspire and connect people of all ages around the globe in their shared desire to protect and celebrate migratory birds. The day also serves as a reminder that migratory birds are in serious decline and need international action to ensure their survival.
On their journeys across the planet, birds face numerous threats such as habitat loss and illegal hunting as well as other threats such as poisoning, and collision with man-made objects such as glass-covered buildings and powerlines. Climate change is another major threat to migratory birds adding extra pressure on birds by adversely affecting the habitats they need for breeding, resting and feeding.
"Migratory birds are world travellers. For generations they have connected people, countries and ecosystems. But they also have a front row seat to what we at UNEP call the triple planetary crisis of climate change, biodiversity loss and pollution. Climate change is changing and disturbing the migratory patterns of birds," says Inger Andersen, Under-Secretary-General of the United Nations and Executive Director of the UN Environment Programme (UNEP).
"The destruction of the natural world threatens these amazing animals, including pollinators, critical for food security and well-being. And pollution whether in waterbodies, land or air, is proving toxic for migratory birds. On World Migratory Bird Day, I call on us to re-double our commitment to addressing the triple planetary crisis and securing the future of bird song for all," says Andersen.
Hundreds of special events are scheduled in countries along all major bird flyways to mark the day. An impressive line-up of free online programming on a range of topics related to migratory birds, their migration and international efforts to conserve them are also being offered by some of the leading bird conservation and nature education organisations in the world.
"World Migratory Bird Day is an opportunity for people everywhere to celebrate and learn about birds, and to reconnect with nature by actively listening to and watching birds wherever they are," said Amy Fraenkel, Executive Secretary of the Convention on the Conservation of Migratory Species of Wild Animals (CMS).
"World Migratory Bird Day 2021 is a celebration of birds, and it is also a reminder of the importance of working together, across borders, to protect migratory birds and nature," she added.
"As the world turned silent due to the repeated lock downs, it was as if the birds suddenly became louder. Yet in fact, the opposite is probably true and maybe we just started to listen closer. But one thing is very clear. Birds and their song have been a real source of comfort and joy for many people around the world in this difficult time," says Jacques Trouvilliez, Executive Secretary of the African-Eurasian Waterbird Agreement (AEWA).
"Yet we must not forget that birds and in particular migratory birds the world over are constantly under threat and that tackling these will require both investment in nature as well as close cooperation between countries," says Trouvilliez.
CMS and AEWA are the only intergovernmental treaties of the United Nations that work for the conservation of migratory birds and their habitats, bringing countries together to try to address the many threats to their survival.
Approximately 2,000 of the world's 11,000 bird species migrate, some covering enormous distances, like the Artic Tern and the Bar-tailed Godwit, which flies distances up to 11,680 kilometres non-stop between Alaska and New Zealand.
The flyways of migratory birds span multiple countries and include the main routes the birds follow, generally in a north-south and south-north direction twice each year, as they seek the best opportunities for breeding, resting and refuelling along the way.
"Birds are a universal language. They connect us. Every single one of us has a story of our personal experience with birds to share. In these challenging times birds are a reminder of how connected we are as they travel the world," says Sara Wolman, Visual Media Specialist at the United States Fish and Wildlife Service (USFWS) and the artist behind the artwork of this year's World Migratory Bird Day campaign.
The artwork being used for the global campaign depicts a small selection of the migratory birds which travel along three of the major flyway systems found in the world: The Americas Flyway, the African-Eurasian Flyway and the East-Asian Australasian Flyway.
"World Migratory Bird Day champions bird conservation across the flyways," says Susan Bonfield, Executive Director, Environment for the Americas (EFTA) which organises World Migratory Bird Day in the Americas, bringing people and communities together in celebration of migratory birds from Canada to Argentina and the Caribbean.
"Our programs are helping to unify our voices for migratory birds and serve as a call to action to protect them. In this difficult and unusual year, birds have brought us renewed joy in nature and have fostered a shared passion for these long-distance travellers that is echoed across the world," adds Bonfield.