Climate change is resulting in loss of lives and livelihoods because of extreme weather events and changing seasons. Working people make up the bulk of those affected, and they are increasingly being displaced from their homes. Also, workers are expected to be on the frontlines of the industrial transformation that is a necessity for a zero-carbon future.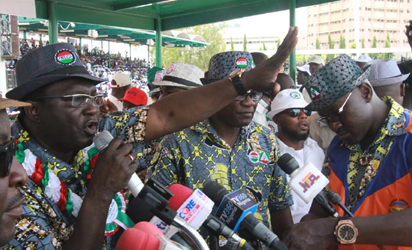 These are some of the sentiments expressed by the Nigeria Labour Congress (NLC), which is also bothered by the fact that increased workplace heat in already hot countries like Nigeria as a result of ongoing climate change is expected to result in work productivity losses and have a significant impact on human wellbeing, population health and local, national and regional economies.
Fears are that the capacity of working people to carry out activities that require physical work will be particularly affected.
In a recent publication titled: "NLC Climate Change Policy", Labour says that the frequency and severity of extreme weather conditions in Nigeria due to climate change is noteworthy because it affects the workplace.
But Ayuba Wabba, the NLC president, laments that many Nigerian workers do not sufficiently grasp the complex processes of the manifestation of the crisis, nor are they able to relate its effect to the workplace.
In the 22-page document whose production was supported by the Abuja-based Friedrich Ebert Stiftung (FES) Nigeria, Labour submits: "The implications of climate change on workers though real, the depth of the consequences would tend to differ for different sectors of production and location. But, in specific sense, it affects productivity, livelihoods and income.
"Labour, therefore, has a significant role to play in addressing climate change, both in terms of protecting workers and ensuring a 'just transition' towards a 'green economy'."
In the light of the fact that climate change is a developmental issue with political, social and economic implications, NLC points out in the document that it needs to interrogate the process of transition to a low carbon economy, the change from unsustainable production and consumption patterns to government investment and job creation.
This, the body notes, will require significant government investment in renewable energy, efficient transport system, and a creative adaptation to urban development.
The group adds: "Reducing emissions in key polluting industries, encouraging more energy efficiency, skills development and re-training of workers are critical. From a social perspective, climate is an issue for the poor and the working class because it is the poor that will be most vulnerable to the impact of climate change.
"While trade unions need to support the principle of common but differentiated responsibility as an appropriate international response to climate change, it is necessary that we act to hasten the transformation of production, ownership and control patterns in the economy, th the interest of the working class and the poor.
"Thus, trade unions and workers need to understand the causes of these disruptions, in order to ensure strategic participation in critical discussions and to be able to propose measures that would strengthen the fight against climate change. This would be possible by multiplying the positive changes."
According to Wabba, "Congress will work with interested parties to promote such alternative technologies, especially as they relate to public transportation, energy production, agriculture and mining. It is the hope of Congress that this document will clearly signal the preparedness of Labour to lead in the fight against climate change crisis."