Women took the global stage on Tuesday, November 9, 2021 at the United Nations climate summit, COP26 in Glasgow, Scotland, to show that climate change isn't gender neutral and that climate action needs them.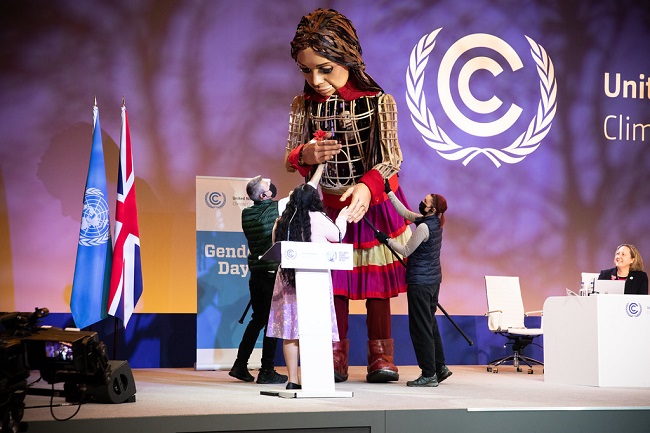 They noted that investing in women and girls creates ripple effects felt throughout entire communities and the frontline knowledge they possess is needed now more than ever.
After "walking" some 8,000 miles across Europe, Little Amal, a giant puppet representing a young Syrian refugee girl, arrived in Glasgow right on time for "Women's Day" at COP26.
The 3.5-meter-tall living artwork surprised attendants of Tuesday's plenary when it walked up the stairs and joined Samoan climate activist Brianna Fruean in a hug and a gift exchange.
Brianna gave her a flower, representing hope and light, and Amal, a bag of seeds in return.
"Both of us have embarked here for a journey, from two very different places, but we are connected by the fact that we are living in a broken world that systemically has marginalised women and girls. Especially women and girls from vulnerable communities," Fruean told the plenary.
The young activist reminded participants that the brunt of the climate emergency which amplifies existent inequalities is often felt harder by women.
"Amal brought seeds to physically share, to inspire, seeds represent hope.
"The beautiful thing about seeds is that you have to be selfless enough to be content in the fact that you might not eat the fruit or bear the flowers.
"But feeling it is worth it, knowing that your children will live with its beauty," she added, using seeds as a metaphor for the decisions being taken at COP26 for the future of our planet.
Fruean highlighted that seeds needed to be watered, pruned and nurtured to bear fruit and flowers, inviting delegates to keep their work after the conference finishes.
"I will plant these seeds out when our ministers are ready, but I hope that within the negotiations and rooms you are able to plant them.
"When we leave COP, you'll tend to them so that they'll grow into a beautiful world that is deserving of girls like Amal and deserving of having all girls be safe in it."
Alok Sharma, the COP26 President, made a short intervention, but not without being observed by Little Amal and Fruean, who stood tall watching his speech.
"Today is gender day because gender and climate are profoundly intertwined. The impact of climate change impact women and girls disproportionately," he said, urging to empower and support women.
Little Amal, and the Syrian girls it represents, are not alone in their distress: 80 per cent of the displaced by climate related disasters and changes around the world are women and girls.
For millennia, women have had a special relationship with nature. They contribute enormously to the well-being and sustainable development of their communities, as well as to the maintenance of the planet's ecosystems, biological diversity and natural resources.
Women in developing countries are generally the first to respond to managing the environmental capital that surrounds them.
From collecting water for cooking and cleaning, using the land for livestock, foraging for food in rivers and reefs, and collecting firewood, women all over the planet use and interact with natural resources and ecosystems daily.
According to the United Nations Development Programme (UNDP) and other UN agencies, they are also the first to feel the effects of climate change when they must travel longer and longer distances to find what they need to feed their families.
Moreover, while environmental degradation has serious consequences for all human beings, it affects, in particular, the most vulnerable sectors of society, mainly women, whose health is most fragile during pregnancy and motherhood.
However, the recognition of what women contribute or can contribute to the survival of the planet and to development remains limited. Gender inequality and social exclusion continue to increase the negative effects of unsustainable and destructive environmental management on women and girls.
Persistent discriminatory social and cultural norms, such as unequal access to land, water, and other resources, as well as their lack of participation in decisions regarding planning and management of nature, often lead to ignorance of the tremendous contributions they can make.
By Cecilia Ologunagba