Connected Development (CODE), with support from the New Venture Fund through the development Research and Projects Centre (dRPC), brought together 17 young women from different spheres of life in Abuja to build their capacities in identifying issues faced when overcoming barriers to girl child education in Nigeria.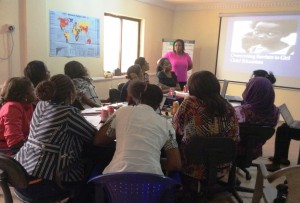 The workshop took place from 22-23 August 2014 as a step-down training of an aftermath workshop of the Women Leadership4girls' Education (WL4GE) Fellowship, which Ojonwa Deborah Miachi, A World At School Global Youth Ambassador and the Policy & Advocacy Advisor of CODE, is a Fellow.
The lead facilitator, Ojonwa, noted: "Female champions working passionately to reducing the barriers to girls' education came together for a two-day workshop on leadership training; technical assistance to document best practices; training on advocacy for girls' education and support to access global opportunities in girls' education. The process of advocacy and leadership was broken down to the most minimum level.
"The leadership skills of young women at the workshop interested in girls' education were developed. There was also training on advocacy techniques, networking skills and the creation of mentoring opportunities between participants and instructors to enable the young women explore numerous leadership opportunities that can build their experience and most importantly, Increase the enrollment of girls in schools."
Agbeje Naomi, a student of City Royal International Academy, stated: "As a 12-year-old girl, I now know I can take on the role of leadership at any point in my life. I have learned a lot about the challenges other girls face when trying to have access to education and from this training exercise, I know I can now contribute in doing something about it."
Hamzat Lawal, the Chief Executive of CODE, stressed that this would be a starting phase for the young women activist.
"It is important for young women and girls to take leadership roles in ensuring girls have more access to education. Girls have so much potential to contribute to sustainable development and with the combined efforts of dedicated female champions, every girl can have that chance of going to school, which helps her grow into a powerful and independent person that can change the world," he stated.
He added: "With the right tools in engaging our communities and policy makers, we would reduce numbers the out of school children and drive demand for quality education in Nigeria. This is why we shared with them our Education Budget Tracker, a web-based mobile tool with SMS integrated to track government & international aid spending as an incentive to hold government to account on providing access to quality education in Nigeria."
At the end of the two-day training, participants came to a consensus to act more on data advocacy and information for girl child education and also agreed to work together as a team to reduce all barriers to girls' education in Nigeria.
CODE is a non-governmental organisation (NGO) whose mission is to improve access to information and empower local communities in Africa by creating platforms for dialogue, enabling informed debates, and building capacities of marginalised communities which will bring about social and economic progress within communities, while promoting transparency and accountability.