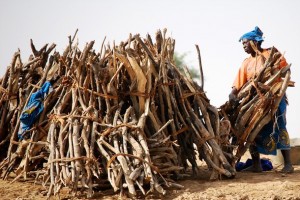 Despite Nigeria's large oil reserves, energy poverty appears to be one of the most striking characteristics of the citizenry, with the formal power sector consistently failing to deliver.
With per capita electricity consumption falling below 150kwh, the situation looks dire. Rural communities, however, seem to suffer the most deprivation – even as a national programme to expand power to the poor is non-existing.
Indeed, more Nigerians are reportedly climbing down the energy ladder – moving from electricity, gas and kerosene to fuel wood and other traditional biomass energy forms. About 112 million people depend solely on wood as a source of fuel for cooking, according to scientists.
Besides burning 90 percent more wood than necessary and thus contributing to the buildup of greenhouse gases (GHGs) that cause climate change, traditional biomass stoves via the smoke they emit cause 95,300 deaths yearly, according to the World Health Organisation (WHO).
Government funding for rural electrification and cooking energy for poor people has declined over the years, warns a new study by the International Centre for Energy, Environment and Development (ICEED).
In a recent report, the think-tank on energy and climate change warns that, without a new national programme on rural electrification and clean cookstoves, the number of poor people in Nigeria will grow exponentially.
ICEED, which has taken up a campaign to expand access to available, accessible, affordable, sustainable energy services that empowers both men and women – especially the poor, discloses in the study that the Federal Government budgets for rural electrification have consistently declined over the past decade. The campaign is titled: "Financing pro-poor energy access in Nigeria."
As Nigeria's population grows, the proportion with access to electricity is declining, says the study, adding that ongoing power sector reforms will deepen this trend should new national rural electrification programmes be launched.
The study warns of a deepening North and South divide in access to energy services.
"Northern Nigeria is consistently lagging behind in the proportion of households connected to the grid. For instance, while almost all households in Lagos have access to grid electricity, over one million households in Kano are not connected to the grid. Families in the North are more likely to be dependent on firewood use than Southern families. The trend is the same for access to kerosene and cooking gas," submits Ewah Eleri, who heads ICEED.
According to him, not only has rural electrification fallen out of the policy radar of the Federal Government, Nigeria has no history of tackling the crucial issue of cooking energy.
"About 95,300 Nigerians die every year from smoke coming from firewood use. At 0.4kg/person, Nigeria has one of Africa's lowest per capita use of LPG or cooking gas – a paradox for an LPG exporting country," he says.
The study calls for the launching of a new National Rural Electrification Programme under the Power Sector Reform programme. It recommends that the Central Bank of Nigeria (CBN) and the Bank of Industry (BOI) set aside a proportion of the power sector intervention fund for off-grid power projects using renewable energy. It also calls on the Federal Government to establish a National Cooking Energy Programme.
Besides the Nigeria Electricity Regulatory Commission establishing a framework for the utilisation of the Consumer Assistance Fund, he likewise wants the authorities: to develop and launch a new National Rural Electrification Strategy; use a proportion of the Ecological Fund to finance cooking energy; develop clear policy incentives to support private sector investment in energy services for the poor; mobilise non-governmental organisations (NGOs) to provide community-level energy services; and establish a donor's platform on pro poor energy.
According to Eleri, "energy is a crucial element in efforts to grow incomes and escape poverty. Without an expansion of government programmes and private sector investments in providing energy for Nigeria's poor, the transformation agenda will fail".
He laments that government response to the pro-poor energy challenge has been inadequate, and funding to address the trend is in decline. His group's campaign, he notes, seeks to reverse the situation by agitating for the expansion of the scale of government, private sector and donor funding for pro-poor and gender-sensitive sustainable energy options.
Some donor energy interventions in the country are: $200 million Nigeria Electricity and Gas Improvement Project by the World Bank; $5 milion GEF Nigeria Energy Efficiency Project (data gathering for energy performance standards, set up testing centres, focused behavioural change awareness, and pilot projects) by the United Nations Development Programme (UNDP); $2 million of UNDP/Bank of Industry access to renewable energy scale up initiative;  $2.73m Small Scale Associated Gas Utilisation project. (Funded by the GEF, the project started in 2011 and is being implemented by IBRD); N2 billion solar project in Katsina State being funded by JICA; $10 million – $32 million Partial Risk Guarantees for renewable energy and energy efficiency by USAID; and $1.3m for ongoing Energy Efficient Woodstoves project in Lagos and Cross River states by USAID.