For the research institutes to fulfill their mandates and contribute meaningful to the nation's quest for self-sufficiency in food production, the media must support and protect them from anti-technology lobbyists.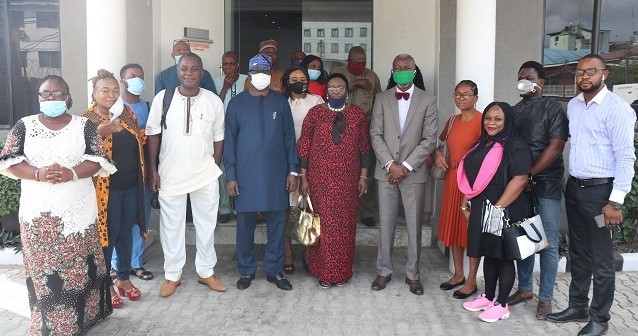 The submission was made by Prof. Alex U. Akpa, Ag. Director-General/CEO of the National Biotechnology Development Agency (NABDA), in Lagos on Friday, August 7, 2020 during a Science Editors Retreat organised by NABDA and the Open Forum on Agricultural Biotechnology (OFAB).
The daylong event had "The Role of Editors in Communicating Biotechnology in Nigeria" as its theme.
Prof. Akpa called on media practitioners to be aware of misleading information and news circulated in the media "by a group of arm-chair critics telling the people to avoid genetically modified foods (GMOs), that they can cause cancer, make humans grow horns, can kill, etc".
His words: "The aim of all this campaign is to instill fear in our farmers and populace and ensure that our farmers and people remain food insecure, poor and backward. As media practitioners, I urge you to look at the ages of our farmers currently, mostly in their 60s how long are we going to rely on this age group and how can we get the younger ones interested in farming.
"No nation has been able to develop without integrating science and technology into its development agenda and that is the path Nigeria is following now, the era of hoe and cutlass farming is over and we must adjust to current realities.
"All the advanced countries of the world today have been eating genetically modified foods (GMOs) for over two decades and there has not been any report of adverse impact on health or environment."
Some other resource persons spoke in a similar vein. For instance, Communication and Advocacy Officer at the African Seed Trade Association (AFSTA), Aghan Daniel, examined why editors must work with seed companies to sensitise the masses on GMOs in Nigeria.
According to him, editors must look at the bigger picture and help journalists to write in a way that correctly portrays the methodology of introduction of GMOs in Africa.
His words: "The writing that we have portrays GMO seeds are all about the terminator technology. And so, I still recommend that editors work closely with seed companies to provide them with up-to-date information on GMO seeds.
"In 2014, I got surprised when journalists from Africa who had converged in Kenya for the second African Conference of Science Journalists congratulated Bayer (then Monsanto) for accepting to Page 2 of 4 make a key note address at the Conference.
"I learnt that journalists are hardly given interviews by this company which is at the driving seat of the technology. And so, editors must have links with company officials they can interview at short notice without any bottleneck."
Another speaker, Diran Onifade, who is Editor-in-Chief, Africa STI, an online newspaper focusing on science and technology, described GMO as a technology meant for good by promoters but despised by antagonists.
"It is science caught up in politics and now, in Nigeria, religion," said Onifade, who used to work with the Nigerian Television Authority (NTA).
"Every science or technology offers benefits and risks, but opponents harp on the risks and downplay the benefits. Policy makers must weigh benefits and risks," he said.
Country Coordinator of OFAB Nigeria and Deputy Director at NABDA, Dr Rose Gidado, speaking on "Overview of Biotechnology Programme in Nigeria", described agricultural biotechnology as an area of agricultural science involving the use of scientific tools and techniques used in improving plants, animals and microorganism.
"Crop biotechnology is one aspect of agricultural biotechnology which has been greatly developed upon in recent times," she said, adding that achieving a sustainable economic development in Nigeria and Africa at large will continue to be a mirage without well-nourished and healthy people.
By combining different types of technology, Nigeria, she says, "can deliver solutions for food security challenges".
Her words: "We multiply the benefits when we combine solutions such as biotechnology, plant breeding, crop protection and farm management solutions to solve problems and increase efficiency.
Describing Nigeria as fertile for agricultural biotechnology, Dr Gidado listed NABDA's strides over the years to include:
Facilitation of the Biosafety Bill passage process at the National Assembly and subsequent assent by the President in 2015.
Take-off of National Biosafety Management Agency (NBMA).
Facilitation and provision of platform for the development of regulations and guidelines for NBMA Act 2015.
Approval of Bt. Cotton for Environmental release and Bt Maize for CFT by NBMA 2016.
Approval for Commercial release of Bt cotton 2018.
Environmental/Commercial Release of Bt. Cowpea by the NBMA in 2019.
She identified GM crops outlook in Nigeria as:
Maize (Stacked genes for insect resistance and glyphosate herbicide tolerance),
Rice (Stacked with nitrogen use efficiency, water efficiency and salt tolerance),
Cassava (VIRCA Plus Bio cassava plus (pro-vitamin A, protein, iron), cassava mosaic virus resistance and brown streak virus resistance),
GM Cassava (IITA) (Shelf-life elongation),
Sorghum (ABS) (Bioavailability of iron, protein and zinc),
HT Soya,
Cowpea (insect resistance), and
Cotton (Insect resistance).
Speaking on "Key Progress in Biotechnology Regulation and Approvals in Nigeria", Dr. Rufus Ebegba, DG/CEO of NBMA, stated that although modern biotechnology and genetically modified organisms (GMOs) are intended to be beneficial to the society, there are socio-economic and safety concerns over the potential risks they may pose to human health and the environment.
"It is in addressing the afore mentioned concerns that biosafety has become a means of ensuring socioeconomic and environmental security," he said, even as he described biosafety as the application of laws, knowledge, techniques, equipment and procedures to eliminate risks modern biotechnology might pose on the conservation and sustainable use of biodiversity, taking into account risks to human health and the environment.
Other speakers at the event were Dr Sylvester Oikeh (Project Manager, TELA Maize, African Agricultural Technoligical Foundation, Nairobi, Kenya), Prof. Banji Oyelaran-Oyeyinka (Senior Special Advisor, Industrialisation, Office of the President, African Development Bank), Mr Akin Jimoh (former Communications Officer, UNICEF Nigeria), Mr Declan Okpaleke (former CNN African Journalist of the Year) and Mr Godwin Atser (Digital Extension & Advisory Services Specialist, International Institute for Tropical Agriculture, Ibadan).