The Africa Union Chairperson, Ms. Nkosazana Dlamini-Zuma, has said that African Heads of State shall give a focused attention to the subject of urbanisation at their next two Summits to be held in Addis Ababa and Kigali to ensure that the issues are well internalised. She added that the two Summits would see Africa taking a common position on the forth coming Third United Nations Conference on Housing and Sustainable Urban Development (Habitat III), which will be held in Quito, Ecuador in October 2016.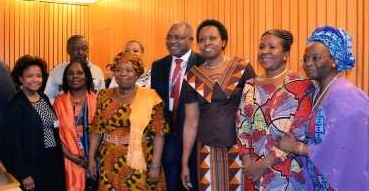 She said that the Africa Urban Agenda needs to be embraced by Africa's highest policy making organ – the Summit of Heads of State. The chairperson stated this at a dialogue in Addis Ababa which was organised by the United Nations Economic Commission for Africa (ECA), UN-Habitat and the African Union Commission (AUC). In response to Africa's rapid urbanisation and the consequent development challenges, the High Level Panel discussion was held on March 28th, 2015 to share experiences and propose recommendations related to urbanisation and structural transformation in Africa in line with African Union's vision and agenda for the next 50 years, also known as AU Agenda 2063.
The event brought together policy makers, senior officials from the African continental organisations, senior African government officials and policy makers from Finance and Planning Ministries, urban planners, the private sector and individuals from the academia. Dr Khabele Matlosa, the Director of Political Affairs, Africa Union, represented the Commissioner of Political Affairs of the Africa Union and delivered the opening remark. He explained that there is a desirable goal, which has been taken on the path of Structural Transformation and is achievable, with the collaborative effort from all stakeholders, especially the ECA.
Africa's urban projections have been estimated to increase from the current 400 million to 1.2 billion with the majority of this growth in informal settlements or slums. Although Africa is the least urbanised region in the world, its rapid urban growth warrants attention beyond the rhetoric. It needs a political agenda that would influence accelerated policy implementation. Today, Africa provides a snap shot of where Asia was in the 1960s and Latin America in the 1920s, revealed Mr. Marco Kamiya, of Urban Economy Branch of UN-Habitat but that, however, there is still an opportunity to learn from the mistakes and good practices of both regions.
On his part, Prof Fantu Cheru observes that as cities in Africa undergo rapid growth, policy makers need to make deliberate choices to look at economic and social transformation as a political project just like Ethiopia has done in recent years.
Mr Madala Masuku, South Africa's Deputy Minister of Economic Development, gave an insight into the historical antecedents of exclusion which African cities have suffered as a result apartheid in South Africa and colonialism in many African countries, which restricted the movement of people within a country and across borders. Therefore Africa's response to urbanisation would need to take into consideration profoundly social and economic inclusion. National Development Plans should define new growth paths that encourage industrialisation, Research and Development, innovation, the green and knowledge economies.
In his speech, Nigeria's Permanent Representative to UNEP and UN-Habitat Mr. Akin Oyateru, said African leaders in a bid to lead their own process of transformation have decided to embark on a process of transformation that suits the African context with deliberate mobilisation, planning, training and collaborating, in preparation for the forthcoming conference. On her part, Ghana's Deputy Permanent Representative to UNEP and UN-Habitat, Ms. Sekyiwa Ahenkora also encouraged member States to support the Africa Urban Agenda with resources that will enable a strengthening of partnerships that will build ownership of the process at all levels. Nigeria and Ghana are champions of the African Urban Agenda and are supporting the programme with $3 million and $500,000 respectively.
Dr Aisa Kacyira, the Deputy Executive Director of UN-Habitat, emphasised the role of a common purpose by leaders in harnessing urbanisation issues and underlined the need to also link rural dimensions of development when addressing urban issues. She reminded delegates that urbanisation could be used as a tool for reconciliation, peace building and addressing climate change beyond the economic benefits it presents and encouraged everyone to look at promoting integration of cities for trade, culture and heritage purposes.